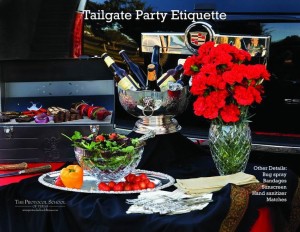 Who's up for a tailgate party? I love the idea of getting a group of friends together and sharing some fun before the big game. Whether it's a local high school football game or a professional sporting event, you can be the star of the show if you show up with a great dessert.
Cupcakes are easy to make and extremely portable. I tried out this recipe this weekend and they were the hit of the party. The cupcake recipe is from Paula Deen's Holiday Baking magazine 2010 and I iced these little gems with my own frosting recipe.  For more of my tailgating etiquette tips, go to Hitched Mag and check out Tailgate MVP Etiquette .
By the way, the picture was taken by my friend, Jeffrey Truitt, Jeffrey Truitt Photography. He's a pro and a really great guy.
1 (18.25 ounce) box spice cake mix
1-teaspoon ground ginger
1-teaspoon cinnamon
1/2-teaspoon ground nutmeg
1 (15 ounce) cans yams, drained and mashed (My girlfriend has been making this recipe for years and she uses a can of pumpkin puree – not pumpkin pie)
1/2-cup vegetable oil1/2-cup water
3 large eggs
1. Preheat oven to 350 degrees. Line muffin pan with liners.
2. In a large bowl, combine first 4 ingredients.
3. In medium bowl, combine next 4 ingredients and add to dry mixture.
4. Beat at medium speed with mixer until smooth. Spoon batter into muffin cups.
5. Bake for 16 to 18 minutes until wooden pick inserted in center comes out clean.
6.  Cool in pans for 10 minutes, remove and cool completely.
Ice with your favorite icing (Paula Deen offers a Cinnamon-Cream Cheese Frosting) but I made my own with 2 packages cream cheese, 2 cups confectioners sugar, 1 tsp. vanilla extract and a dash of cinnamon. Mmm…
*Closer to Halloween, put a candy corn on top and send these cupcakes to school with the kids or take them to the office for a Boo-tiful morning treat.