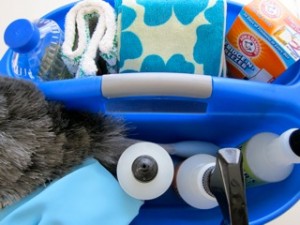 I'm proud to have Coryanne Ettiene, founder of Housewife Bliss, write a guest blog today on Dorm Room Cleaning. Coryanne is a sought after lifestyle expert and special contributor to various publications such as The Daily Meal, Celebrations, and The Examiner, with entertaining ideas listed on The Huffington Post. Coryanne regularly appears on television programs, among them Tucson Morning Blend, Smart Family, The Valley Dish, and Arizona Midday.
Please help me welcome Coryanne Ettiene…
Dorm rooms conjure up images of dirty washing, coffee rings on desks and unmade beds, but with a few simple tools that image can be improved with little time, and few supplies.
Keep a supply of bed linens and towels on hand – laundry days are hard to marry with the social demands of university living, having a supply of linens on hand ensures that clean bedding and towels are always on hand.
A basic hand iron and petite ironing board ensure that when the mood strikes, clothes can be ironed with little fuss and without taking up precocious storage space.
A large hold all laundry sack makes it easier to transport laundry from dorm room to laundry room.  It also means that it can be cleaned with little fuss — as it can be laundered right along with all the dirty washing.
A compact broom and a hand held vacuum for keeping the floors clean.
Keeping a cleaning bucket on hand that can store easily when not in use means less clutter, and filling it with easy to use supplies ensures that it will get used more often than not.  Essentials for a dorm room-cleaning bucket include:
All-purpose cleaning wipes (for those quick cleaning jobs)
Microfiber cleaning cloth (works as a duster and a moist scouring agent)
All-purpose cleaning spray (to be used when you need to tackle tricky cleaning jobs)
Scented Dryer Sheets (place in you closet to keep it fresher longer)
Box of Baking Soda (great for sprinkling in your trash can for combating odors)
Cleaning gloves (for those deep cleaning moments)
Toilet Bowl Cleaner
Antibacterial Aerosol Spray
Happy cleaning, and remember: the less mess you make, the less you have to clean up.
Recommended Reading:
Read more about Coryanne at
Housewife Bliss
Follow Coryanne on
Twitter
and Fan her on
Facebook