Do you enjoy entertaining? Know how to whip up many a delicious recipe without spending all day in the kitchen? Then share your secrets with us in my recipe contest for your chance to win $225 worth of entertaining goodies (details below)!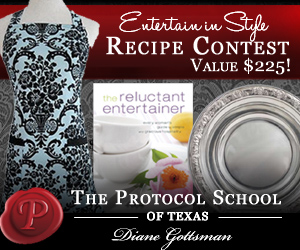 Enter My Entertain in Style Recipe Contest for a Chance to Win:
~ Vintage Silver Bon Bon Dish from Reed & Barton, courtesy of Silver Magpies (value $175). Have you visited Silver Magpies yet? Nancy's passion for vintage silver is contagious! I especially love that she makes a point to dine with silver as a family in everyday life. I hope you'll get to know her via Twitter or her blog. She also has many wonderful vintage silver items for sale in her etsy shop. I'll also be sharing a few of her vintage silver finds and tips on my blog soon.
~ Dinner in Paris apron from The Hip Hostess (value $36). This elegant apron is so stylish you won't want to take it off! Whether you make it, bake it or fake it, a Hip Hostess apron will positively change your domestic attitude! Mixing fresh fabrics with clean design and functional style flat out moves a little "hip" into your kitchen. No matter what you're cooking up, Dinner for Eight or Gourmet "To Go", Hip Hostess has an apron that's just your style!
~ The Reluctant Entertainer: Every Woman's Guide to Simple and Gracious Hospitality by Sandy Coughlin (value $14). The Reluctant Entertainer offers both inspiration and practical guidance to people who are reluctant to entertain. She calls it entertaining for real people.
Are you ready to share your favorite recipe?
1. "Like" our page on Facebook
2. Submit your recipe using the simple form here.
Contest runs July 29 – August 6, 2011. Winner will be announced on August 10! A few of my favorite entries will also be shared on my blog. Facebook "like" not required to enter. Must be US resident 21 years of age or older to enter.  Winner will be chosen by panel at Protocol School of Texas. Judging based on recipe originality and ease of preparation for entertaining.
Thank you and Bon Appetite!