What brings you comfort and joy during the holidays? For many of us, it is spending time with the ones we love the most! I especially enjoy the cheerful spirit of strangers, neighbors and friends – it's contagious. Hearing a friendly "Happy holidays" makes a gloomy day a little brighter.
I'd be remiss to overlook those struggling with the "holiday blues". Moments where we miss those that have passed on or other's that we have loved and lost. It is healing to reflect on the many wonderful memories we have made along the way while looking ahead to the future moments to come.
This holiday season, my wish for you is that you'll feel a true sense of comfort and joy. That's why I'm holding my "Comfort & Joy" giveaway!  As I thought about the theme for this month's giveaway, I searched the internet for an appropriate gift. The first thing I came across caught my eye and made my heart smile…a delightful "Comfort & Joy" gift basket from 1-800-Flowers.com!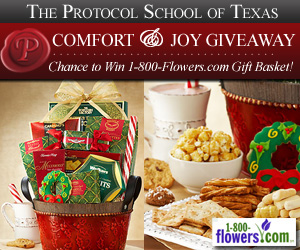 When you enter the giveaway, you'll be entering for a chance to win a "Comfort & Joy Sweet Treats" Gift Basket. This distinctive wood basket (from 1-800-Flowers.com) has a unique red tin band embossed with charming holly – and it's filled with the most delicious assortment of treats! The prize value is $59.95.
Enter the Giveaway:
Simply enter on my Facebook page here.
Not on Facebook? We have an alternate method of entry.
Hurry! The giveaway ends next Thursday, December 18th.
One entry per person. Must be 18 years of age or older to enter.
The short entry form asks you to share with me that which brings you the most comfort and joy this time of year. I'll be sharing a few of my favorite responses on my Facebook page!
**THIS GIVEAWAY HAS ENDED**
I also have a few etiquette tips to share with you this time of year, in the spirit of "Comfort and Joy"!
Comfort & Joy Etiquette Tips for the Holidays:
 1. Spread joy by sharing a cheerful holiday greeting when you answer the phone, or close a conversation with a genuine "Happy holidays".
2. Share comfort by reaching out to a friend or family member who is grieving. A cup of tea, shared together, or a thoughtful cookie tray will surely brighten his or her day!
3. Spread joy by contributing to a family in need. Contact your local children's shelter and inquire about any items still needed for their Secret Santa operation.
4. Find comfort in family traditions. Bake cookies together, make a holiday craft, or volunteer together. This gets everyone in the holiday spirit and helps us remember what is most important this time of year.
Wishing you Comfort & Joy,