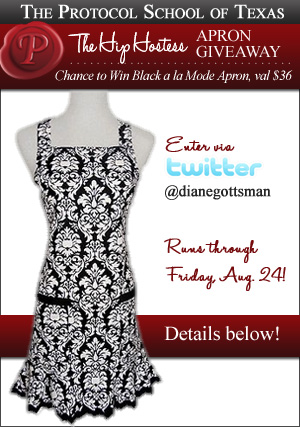 On Monday I shared a Man's Kitchen Checklist.  Today's post is written especially for our female readers, whether you've been throwing dinner parties for years or are unpacking your first Kitchenaid stand mixer. With Fall fast approaching, I'm pleased to include a giveaway as well – a fabulous Hip Hostess apron for one lucky reader (details at the end of this post)!
Every Woman's Kitchen Essentials:
A well-stocked pantry is a must.  The savvy hostess knows that there will be times when she must pull together a simple hors d'oeuvre or dessert for unexpected visitors.  When face-to-face with this scenario, it's best to have a few simple yet elegant options on hand to serve your guests.  One of my go-to hors d'oeuvres that only takes a few minutes to prepare is brie with caramelized pears served with crackers or bread.  For dessert in a pinch, I keep Pepperidge Farm Puff Pastries handy to make chocolate fondue cups or petit fours berry shortcakes.  Not sure what to keep on hand in your kitchen and pantry? Martha Stewart offers a printable checklist to get you started.
Don't overlook your glassware, china (or tableware) and silverware.  I like to wait for a sale and purchase more than one set of my favorite glassware, china and flatware. A chic table doesn't have to be expensive or elaborate.
Wrap, send and store in style.  Sending Susie home with extra cupcakes or casserole can be downright embarrassing if you don't have the proper "to go" plastics or glass. The same goes for saran wrap, aluminum foil, ziploc bags, plastic clips and twisty ties.
Spice it up. Nothing takes a dish to the next level like fresh ingredients. If you have a window in your kitchen, take advantage of this space and grow your own spice rack. Start small  – basil and rosemary maybe, and see if you have a green thumb or not. Not keen on gardening? Most supermarkets sell a variety of fresh herbs for just a few dollars.  Remember to pick them up on your weekly trip and discover the difference in flavor!
Get a garlic press. This is probably one of my favorite kitchen utensils. Mincing garlic by hand takes way too much effort; you have to peel the dry skin and then finely chop it until your fingers hurt. With a garlic press, minced garlic is only a little "elbow grease" away.
Keep an assortment of wood cutting boards on hand. They do less damage to your knives and if taken care of, can last the majority of your lifetime. Find a grain that matches your kitchen and you can display your cutting board out on your kitchen counter.  Keeping more than one cutting board handy ensures friends and family can join the chopping fun. Prepping food together is a great way to bond.
Keep recipes at your fingertips.  An organized store of recipes, whether via your favorite recipe app, in a traditional recipe holder box or safe in your mother's Betty Crocker Cook Book is essential. Even a simple journal or spiral with room to paste clippings or tuck away emailed recipes will go a long way to making sure you are never bored with your menu—or forget how to make that cranberry and orange salad dressing everyone loved. My favorite recipe app (and website) of the moment is called Foodily.  I follow celebrity chefs, search for recipes based on key ingredients already in my pantry and create my own lists for new recipes discovered.  Think Pinterest meets Food Network.
Keep your knives sharp. Sharpen knives regularly—at least 2 to 3 times a month if usage is fairly consistent—and you will avoid the difficulties of wear and tear. Knives that are dull are more dangerous to use because of the increased effort to cut with them. Also, the duller they are, the harder it is to sharpen them back to their original intensity.
Organize and purge! Being organized in the kitchen means meal preparation will take less time and be more enjoyable.  Not to mention it will save you from embarrassment if and when a guest needs to locate a spatula.  Take time to go through your drawers and cabinets and get rid of old, worn or cracked tools and baking items. If you've had your dish set for many years and you no longer have enough bowls to match with the chipping plates, treat yourself to a new set you will be proud to serve your delicious cuisine on.
Stock up on kitchen towels, paper towels and napkins (cloth and paper).  Wet hands in the kitchen are less than desirable for you and your guests.  Make it easy on everyone by having plenty of towels and napkins on hand. 
You must have the perfect apron. Aprons are meant to prevent you from making a mess of your outfit, but having an apron that is a show stopper is even better. My favorites come from The Hip Hostess and I am pleased to be kicking off a giveaway featuring one of her posh aprons!
Diane Gottsman's Hip Hostess Apron Giveaway
THIS GIVEAWAY HAS ENDED.
Donning the perfect apron has a way of energizing my mood in the kitchen, transforming me into a domestic goddess (or at least I tend to think so – ha!).  Now through Friday (August 24, 2012), tweet the phrase below to @dianegottsman for your chance to win your very own "seriously stylish" Black a la Mode apron from The Hip Hostess, value $36.
Your Entry Tweet Should Read:
"@DianeGottsman Please enter me in your @TheHipHostess giveaway for a chance to win a seriously stylish apron! http://dianegottsman.com/2012/08/giveaway"
One entry per day…that's three chances to win!
Not on twitter? Email laura@protocolschooloftexas.com for your chance to win (one email per day, please). 

Contest reminders:
*Must be 18 years of age to enter.  One entry per day per person, please.  This is a sweepstakes. Sweepstakes runs Wednesday, September 22, 2012 to Friday, September 24, 2012 at midnight.  Winner will be drawn on Saturday, September 25, 2012. Entry does not guarantee you will win. No purchase necessary to win. This promotion is in no way sponsored, endorsed or administered by, or associated with, Twitter. As a participant, you are providing your information to The Protocol School of Texas. Winner will be notified via Twitter. Prize is one apron from The Hip Hostess, value at $36.
From my kitchen to yours,