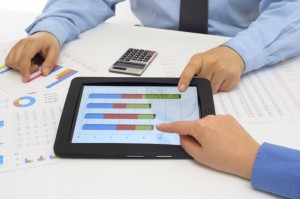 We all love the convenience and fun factor of our iPads – at work, home and on-the-go. Before your next big iPad presentation at the office consider these do's and don'ts:
Do power up your iPad before your workday. There's nothing worse than losing power half-way through your presentation. For peace of mind, slip your mophie powerstation or juice pack in your bag, just to be on the safe side.
Do save yourself time by using Dropbox. As much as I love my iPad, I still find it easier to put presentations together on my laptop or computer. With Dropbox, I can prepare my PowerPoint presentation on my laptop and then easily transfer a copy of the file to my iPad. Keep reading for an app you'll want to download to make presenting a breeze.
Do download in advance. Before your iPad presentation, be sure to download any apps or programs you may need beforehand…including Keynote for iPad to ensure your PowerPoint or Keynote presentation will load. Seconds can feel like minutes when you aren't prepared.
Do clear your web history. Your favorite shopping sites and blogs shouldn't be on display when you're in the boardroom. A quick clearing of your web history is an easy fix.
Don't skin your iPad in bling. Outfit your iPad in a sleek, understated cover. Nothing too glitzy, bright or busy when you are giving a presentation to a conservative group.

Don't forget your VGA adapter. Your VGA adapter will allow you to easily project your iPad presentation onto a VGA-equipped TV, monitor or projector. You'll want to check with the venue beforehand to make sure the screen is VGA-friendly. I always bring a backup copy of my presentation on a USB drive in case I need to revert to a laptop.
Don't let texts get in the way of your reputation. Remember to turn your text preview notifications off before you present (look in your iPad settings under notifications>messages). Your best friend may have the best intentions when she asks if you landed the deal, but it's not something you want to pop up for others to see!
Your iPad should make presenting more interactive as you navigate with ease. Leave your clients and colleagues impressed at just how prepared you are by observing my do's and don'ts.
Happy Presenting,