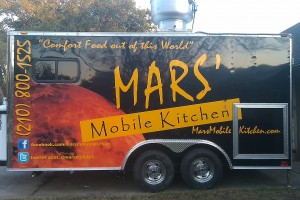 Are you gearing up for family, friends and Thanksgiving Dinner next week? Nothing is better than walking into a home and smelling the turkey cooking in the oven. Add the aroma of multiple side dishes cooking on the stove and I'm in turkey heaven. But, comfort food doesn't mean it always has to be cooked in the comfort of your own home. On the contrary, often times a little help from your friends makes a big difference when juggling limited time, overnight house guests and a house full of rambunctious children.
Enter Michael Romo from MARS' Mobile Kitchen to my home this year! I am making most of my dinner but no one can beat Michael's MACK n Cheese and I will be a hero for making the effort to buy, heat and serve it on Thanksgiving Day (it's my children's favorite). Michael is Chef/Proprietor of a mobile kitchen that is seen all over my city. (For most of you reading this blog, nothing is better than seeing Michael's truck roll up and cater your event)
I asked Michael if he would share his recipe with us and, in the spirit of the holiday, he graciously obliged. The recipe seems easy but tastes "way better" than my own. Comfort food on wheels!
MARS' Mobile Kitchen:
MACK n Cheese
Ingredients:
1/2 pound elbow macaroni
3 tablespoons butter
3 tablespoons flour
3 cups milk
2 cloves
1 bay leaf
12 ounces shredded cheese blend (Parmesan, Asiago, Fontina, Provolone)
¼ cup Mascarpone cheese
1 teaspoon sea salt
Cayenne  pepper
Nutmeg
Topping:
3 tablespoons butter
1 cup panko bread crumbs
Directions:
Preheat oven to 350 degrees F.
In a large pot of boiling, salted water cook the pasta to al dente.
While the pasta is cooking, in a separate pot, melt the butter. Whisk in the flour and keep it moving for about five minutes. Make sure it's free of lumps. Stir in the milk, bay leaf, and cloves. Simmer for ten minutes and remove the bay leaf and cloves.
Stir in 3/4 of the shredded cheese. Add the Mascarpone cheese. Season with sea salt, cayenne pepper and nutmeg. Fold the macaroni into the mix and pour into a 2-quart casserole dish. Top with remaining cheese.
Melt the butter in a saute pan and toss the bread crumbs to coat. Top the macaroni with the bread crumbs. Bake for 30 minutes. Remove from oven and rest for five minutes before serving. Serves 6-8.
Happy Thanksgiving!
PS No, Michael did not deliver the MACK n Cheese in his mobile truck, darn.