At the risk of sounding redundant, because I have blogged about this particular topic and hotel before, when something, some place, or someone is really, really good and offers exceptional customer service, it is not only nice but necessary to acknowledge their effort. In this case, it's The Stephen F. Austin Hotel.  I travel a great deal in my professional life and have the good fortune to stay at wonderful luxury hotels, but the one hotel that comes to mind when setting an exceptional standard with excellent hotel customer service is The Stephen F. Austin.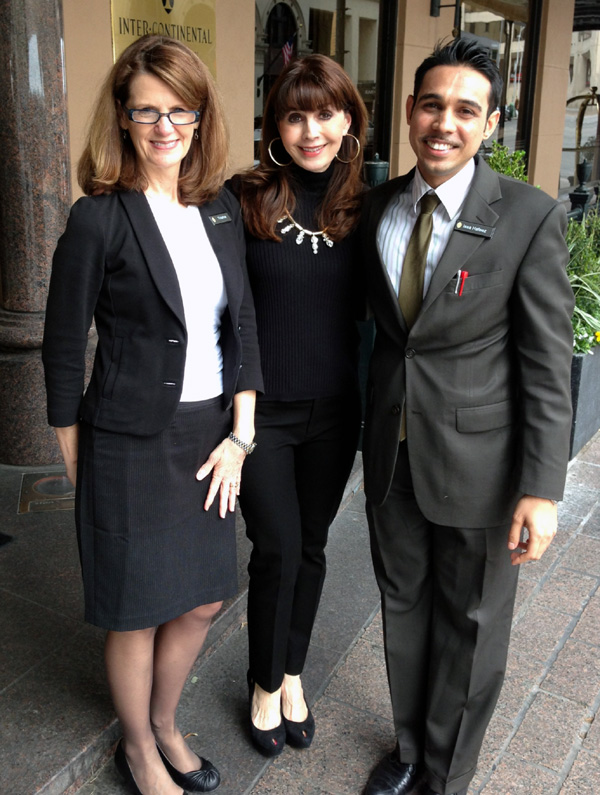 I routinely work in Austin and look for every opportunity to visit two of my favorite people, Issa (Assistant Manager) and Trisha (Concierge). With spring break around the corner and summer travel not too far after, this is a perfect time to talk about why travelers go back to a particular hotel again and again. Plain and simple gestures mean more than over the top bells and whistles. Of course, in the case of The Stephen F. Austin, luxury accommodations are the icing on my own red velvet cake! I love driving up to the curb and the valet, who has never seen me before, treats me like I am someone special. I walk into the lobby and the person behind the front desk makes eye contact with me and smiles as if she really cares "which credit card I will be using."  Here are a few more reasons travelers (in particular me) make a return visit:
The staff remembers, and uses your name. Issa wasn't in the lobby when I arrived but made it a point to catch up with me to "welcome" me back to the hotel. Trisha remembered my husband, who was traveling with me (even though I had completely forgotten he had come with me before – oh well, it's been a long year!) and made reference to their last conversation. She may or may not have taken notes from the previous visit and reviewed them before our arrival. It's the extra effort that goes into making each person feel special that makes a HUGE difference in the overall guest experience.
The hotel is newly remodeled and appointed with beautiful details.  Who wouldn't love to walk up to their hotel room and be greeted by this beautiful, freshly painted door?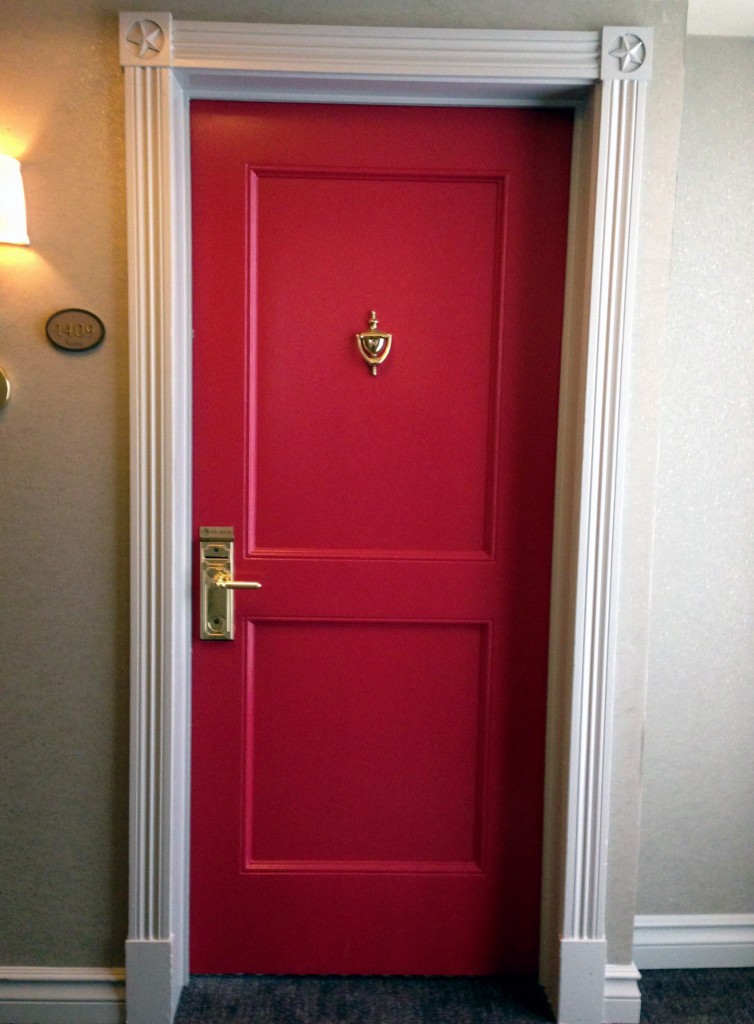 It makes me think "I'm home," only their door looks better.Everything from the well-stocked bookcase to the handsome wooden desk sends the message that quality is a priority.
I don't know what to call this thing but I love it! This little device (seen right) was sitting on the night stand. It didn't take me long to figure out how to use it and I want one for my own home. I would never have to get out of bed!
Did someone say chocolate? Issa and Trisha remember (Again, I'm sure they have meticulous lists on each guest) that I love chocolate and afternoon tea and guess what was delivered shortly after my arrival? By now I am feeling so special that I forget that they treat every guest with the same care. It just feels like I am the ONLY visitor in the entire hotel. It is only when I meet other people in the elevator that reality comes back into view.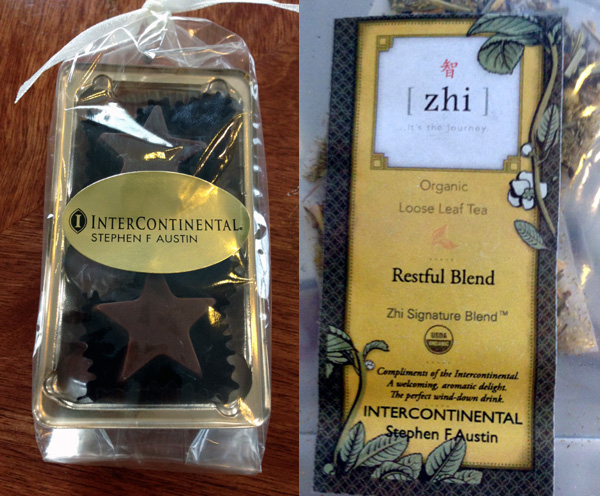 Exceptional recommendations to fabulous restaurants.
Traveling on my own time, I am lucky to remember my toothbrush, and dinner reservations was the last thing on my "to do" before I left home. Since this visit was a belated Valentine gift  to my husband, it was my responsibility to take care of the details and I assured him I had taken care of everything from start to finish –  he was skeptical, I could tell. Little did he know that I barely had time to pack a bag before we set off late in the afternoon. I had good intentions but life just kept getting in my way. Trisha to the rescue, fabulous restaurant found, reservations made, and I looked like I was a Five Star planner.
Nothing makes me happier than a beautiful tray of fresh brewed coffee. My husband was making me a cup while I visited with another guest when all of a sudden, SPLASH, coffee was all over the elegant marble floor. Although I could barely look, I knew my husband had dropped his (my!) cup of hot coffee and it had gone everywhere, including my crisp white jeans, favorite flats and navy blue cashmere sweater, but I digress…  In the blink of an eye,  Karmella, at the front desk, called maintenance, offered my husband a new cup of coffee and the sugary, hot mess disappeared, making his awkward moment as painless as possible. All I could muster was, "Better you than me!"
The bottom line…people do business with people they like. I do business with The Stephen F. Austin because they make me feel like I am important. I am certain that I am NOT the only one that mirrors this sentiment. What keeps a customer coming back? Kindness, respect, graciousness, comfort and attention to every detail, to name just a few small gestures that create customer loyalty. And of course, Issa and Trisha!