A beautiful bow tie, when worn at the right time, on the right occasion (and, yes there are times I would strongly suggest a regular tie over a bow tie), with the right outfit, makes a confident impression and sends a powerful message.
I admire the bow tie style of: Thomas Farley, James Bond, The Cat in the Hat, and Leonardo DiCaprio in The Great Gatsby.
Knowing how to properly tie a tie, both regular and a bow tie, are skills that seem simple, but many men often miss the mark. While some men can effortlessly incorporate a bow tie into their existing wardrobe, there are others that are better off sticking to the tried and true.  The good news is…there is a tie for every man and a bow tie may be in your Father's Day future.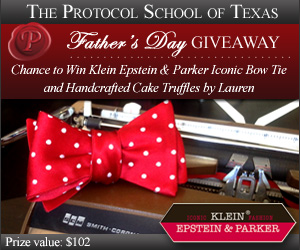 In honor of Father's Day, I'm pleased to be partnering with Klein Epstein & Parker on a special bow tie themed giveaway. Their custom, made to measure designs have been spotted all over Hollywood and Orange County on style savvy celebrities. Our lucky winner will receive an iconic Klein Epstein & Parker bow tie (value of $75).  I recently had the pleasure of talking bow ties and 'New Rebel Style' with Tommy Price, during a visit to Klein Epstein & Parker's new Costa Mesa location.

To sweeten the giveaway, I'm including a box of Cake Truffles by Lauren, adorned with a tiny edible bow tie on each tasty treat (value of $27).  If you haven't seen Lauren's creations, be sure to visit her Facebook page but be forewarned…they will become your new sweet addiction!
Father's Day Bow Tie Giveaway Instructions:
To enter the giveaway, submit your entry here and I welcome you to share what you admire most about your father, or the father figure in your life (not necessary to enter sweepstakes but I'd love to hear!).  I'll be posting some of my favorite responses on Facebook and Twitter!
Wondering how to tie a bow tie? I'm including  a video tutorial (via The Art of Manliness) here. If you prefer step-by-step instructions, Tommy Price, from Klein Epstein & Parker offers his tips below.
How to Tie a Bow Tie:
Hang the tie around your neck so that the right side is about an inch or so longer than the left.
Cross the long end over the short end.  Then, bring the long end up underneath the short end, like the first step of tying your shoes.
Fold the short end horizontally to form the shape of the bow, with the folded end on the right.
Now, bring the long end down over the smallest part of your newly formed bow shape.
Fold the longer end horizontally (like in step 4), but with the folded end to the left.
Pull the folded end of the longer side through the loop behind the first bow.
Pull both folded ends to tighten the knot.
And finally, a print-friendly, illustrated guide on how to tie a bow tie via The Art of Manliness.
Looking forward to hearing from you…and maybe seeing a picture of you, or the man in your life, wearing a favorite bow tie!
Cheers,