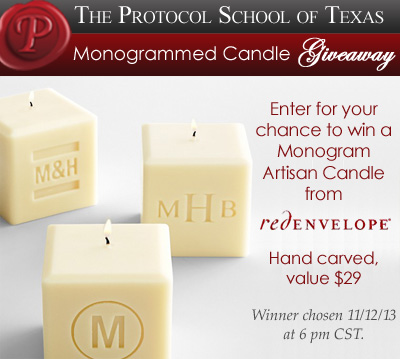 Looking ahead to Thanksgiving and the holiday season, this week's spotlight is on our favorite host and hostess gift ideas.  A thoughtful hostess gift is just one of many ways to show your appreciation for the planning and preparation that went into the delightful gathering.
On Monday I offered my thoughts on Good, Bad and Ugly Host/Hostess Gifts, and this week's topic on Huffington Post Home tied into hosts and hostesses with tips on How to Be the Perfect Houseguest.  This Friday I have the pleasure of visiting my favorite Keri Bellacosa to talk about more houseguest dilemmas.
Here at The Protocol School of Texas we are kicking off the season with our first 2013 Holiday Giveaway, featuring a Monogram Artisan Candle from Red Envelope.  The candle has a place on my Hostess Gift board on Pinterest, and for good reason.  It shows some previous thought and consideration in selecting a beautifully classic hostess gift.
If you're planning ahead for your favorite holiday hosts/hostesses, I'm sharing more of my favorite gift picks below.  To enter today's giveaway, simply comment below with what you're looking forward to most about the holidays.   A tweet earns another entry, as does a Facebook "like" on The Protocol School of Texas page and a comment on the giveaway photo.
Tweetable entry (click to tweet):
I just entered @dianegottsman's Holiday Giveaway for a chance to win a monogram candle from @redenvelope: http://bit.ly/HJIg6s.

My Favorite Holiday Host/Hostess Gifts:

An embossed stamp with the host family's return address:
Love the presentation in this cozy gift of hot chocolate and a great thermos:
A personalized set of wine glasses:
Typographer's Linen Cocktail Napkins:
Contest Details:
Winner to be chosen November 12, 2013 at 6 pm CST.  Prize value $29. This contest is not sponsored or administered by Red Envelope. I just happen to love their products! Must be US Resident and 18 years of age to enter. Limit four entries per person (a Facebook "like," a Facebook comment, a blog comment, and a tweet).
Best of Luck,