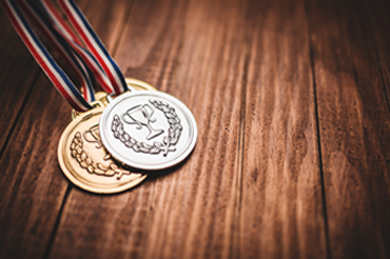 Watching the Opening Ceremony for the Olympics is always inspiring, and Sochi 2014 was no exception. It's enough to bring out strong feelings of patriotism and awaken dreams within us as viewers! What I enjoy most about the Olympics is hearing the personal stories of triumph, challenges, defeat, and never-ending determination that so many of the competitors share.
Olympians have such deep resolve that seemingly nothing can stop them from making it to the Olympics to win gold. There are many lessons to learn from each of them, and countless applications in our own lives.  Today I'm sharing character traits of Olympians that we can apply in our own lives, both personally and professionally:
Having a clear vision. There is no room to sleep late, eat doughnuts or skip a workout – a leader has a goal they are striving to achieve and they maintain a laser sharp focus on what they must do to reach it. If you're clear on your goals (both professional and personal), the next step is to be fully committed to seeing them through, and believing you have what it takes to get there.
Willingness to persevere. It's what happens early in the morning before the sun rises, and into the evening after the sun has gone down, that sets champions apart. Olympians are determined to represent their sport, and their country, to the world under difficult circumstances. Maintaining a rigorous schedule takes discipline, something that each of us can benefit from.
Making sacrifices. There are countless sacrifices that must be made along the journey of becoming an Olympian.   Are you willing to give up short-term gratification for long-term success?
Improving upon yesterday's performance. Olympians know they must deliver a stronger performance today than they did yesterday, even if that means shaving as little as 1/100th of a second off of their time. They know these small gains can mean the difference between a gold or silver medal. Even if you think there is no room for improvement, give it another try. There are many ways to tackle a project or goal, don't let the challenge discourage your determination to rise above.
Surrounding oneself with the right team. Athletes have support not only in the form of their coaching staff, but also in devoted parents, fellow teammates who understand the pressures that training involves and friends who cheer them on. What do the members of your team look like? Are they lifting you up or holding you back?
Accepting constructive criticism. Can you imagine where an Olympian would be if he or she weren't able to channel criticism from their coach into a stronger performance next time? Olympians take criticism and learn from it, it's a large reason they are on the Olympic team, representing their country. In your own professional life, identify when you can benefit from constructive feedback, and practice applying it in your career.
Enjoying the process. Memories are made on the journey towards the goal. Remind yourself that today is your opportunity to be happy and stay mindful of finding joy in your work and life.