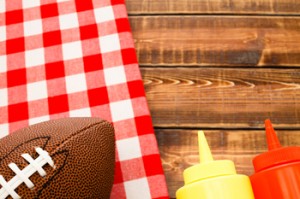 Football season is upon us. Thanks to cooler weather, good food, drinks, and exciting games, tailgating is a great way to gather with your friends. Here are a few tailgate etiquette tips to pull off a successful party with fellow fans.
Make the most of your team spirit. Incorporate your favorite team's colors and logo. From your attire to the awning, camping chairs to coolers—display your fan status by way of your party's theme. If you have guests from both sides of the field, don't play favorites and find ways to incorporate both team spirit banners.
Prepare for the weather. Autumn brings about all kinds of weather. Make sure your guests are comfortable by setting up a portable tent and a few misting fans for hot days. For chilly nights, supply warm throw blankets—in your team colors, of course. You might even bring out a space heater or two. Don't let rain get you down—having the tent will come in handy, and you'll also want to pack some umbrellas and ponchos.
Get organized. Label your coolers so guests won't confuse the meat cooler with the cold drink cooler. Hang a paper towel roll horizontally from the awning metal rods using bungee cords. Pack clear plastic tubs with paper plates, plastic flatware, cups, sunscreen, bug spray, and other outdoor essentials so they can be accessed easily. Set out trash cans around your area for cleanliness and convenience.
Encourage civility. No matter how your team is performing, as the host, you set the tone for your tailgate's atmosphere. Keep your demeanor pleasant, regardless of the score. And while a little ribbing is good fun, avoid negative trash talk.
Consider dietary restrictions. You can't go wrong with barbecue at a tailgate, but make sure you find out if any of your guests have food allergies. If so, incorporate their dietary needs in a dish or two. Your lactose intolerant, gluten-sensitive, and tree-nut allergic friends will thank you!
Bring extra entertainment. Football games are exciting, but not everyone wants to be glued to the TV or radio for the duration of the party. Make halftime lively by tossing around a football or engaging in a lawn game like bocce ball. Break out the cards for a round of Texas Hold 'Em and turn some music on in the background to keep the party atmosphere lively.
Make friends with your neighbors. Football game tailgates are a great place to meet people who share a mutual love of the game. Make the most of the close quarters and shared area. Offer some of your food or drinks to your nearby tailgaters and strike up a conversation. You never know who you will meet.
Tailgate etiquette for the guest:
Ask if the party is kid-friendly before bringing your children.
Ask the host what food and drink you can contribute.
Keep it classy—avoid causing drama, and know your alcohol limits.
Help pick up trash, offer assistance with set up or serving, and pitch in to clean up afterwards.
Bring your own chairs.
Facebook with caution – don't tag anyone in an unflattering pose.
Arrive ready to have fun—put your cell phone away and pay attention to those around you.