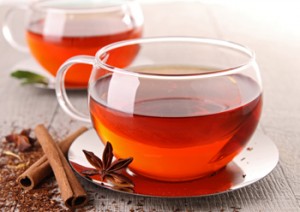 As we move into the cooler months, a hot cup of Rooibos tea may be an appropriate choice to cozy up with this season. An herbal red blend, found in South Africa, Rooibos is rich in antioxidants and caffeine free. Did you know that "herbal teas" are not actually "teas" at all? Called "Tisanes," they are a combination of dried flowers, herbs, or fruits that are prepared the same way as tea. White, oolong, green, yellow, pu-erh, and black tea come from the Camellia Sinensis plant and are the only variations considered to be real "tea." (Tea etiquette tip: It's polite to keep your pinkie down when sipping your cuppa.)
Here are two easy recipes to try this weekend. And, if you have a favorite, we'd love to hear from you:
Hot Rooibos Tea
You'll need:
1 tsp loose leaf Rooibos tea
boiling water
optional: lemon, milk, sweetener
To make the tea, place the loose leaves in an infuser or tea bag to go inside your cup. Pour boiling water over it and steep for 5-10 minutes. Remove the tea leaves. Sip before choosing to add lemon, milk, or sweeteners as Rooibos tea is naturally sweet with a distinct flavor.
Iced Rooibos Tea
You'll need:
2-3 tsp loose leaf Rooibos tea
boiling water
ice
optional: fruit, herbs, soda water, ginger ale, wine
To make Rooibos iced tea, follow the instructions for the hot tea above and chill for at least two hours before enjoying over ice. Add optional ingredients like berries or red wine for a festive touch.
Not into Rooibos? There are many other herbal tea blends, or tisanes, that are caffeine-free and contain health benefits. Autumn favorites include chamomile, vanilla, peppermint, lavender, and jasmine. Make a habit of brewing a pot or pitcher of these teas to have on hand for yourself or guests. A cup of comfort will never be more than a pour away.
For more of my "Tea tips" read my blog, Afternoon Tea Etiquette.