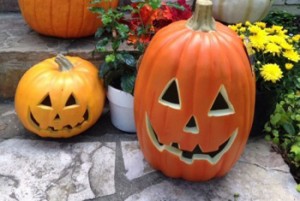 If you love pumpkins as much as I do, you must be delighted to fill your home with as much pumpkin goodness as humanly possible. From warm pumpkin pies to pumpkin spice lattes, a pumpkin decorating party is a fun way to carve some fun into your fall festivities.
Here are some tips for how to host a pumpkin carving party.
I hope it will get your inspirational (pumpkin) juices flowing!
Choose your theme and send out invitations. With only four weekends left before Halloween, now is the time to have your friends and family mark this event on their calendars. Invitations are a great way to help set your party theme. Will it be a casual fall fête? A chic cocktail affair? Or perhaps a festive costume party? Paperless Post has a plethora of inspiration available for you right at your fingertips. Browse their collection of digital invites for a variety of autumn occasions.
Pick your pretty pumpkins. Visit a pumpkin patch, a farm stand, or preferred grocer, and purchase and pose with October's signature orange, white, blue, or various other colored gems. You choose how you want the pumpkin carving party to go – have pumpkins for your guests, or indicate BYOP (bring your own pumpkin) on your invites! Get the cameras ready to roll as soon as the guests arrive.
To carve or not to carve? Once carved, pumpkins only last 3-5 days before they begin to rot. An unopened pumpkin can last up to several weeks, and there are plenty of ways to get creative without putting them under the knife.
Gather your supplies. Throwing a pumpkin carving party requires a few tools. You'll need serrated knives, large spoons, newspapers, and markers to draw your patterns. Extras like miniature saws, a gouge tool, or melon ballers help create additional details. Don't forget the tea light candles or battery operated votives for the finishing touch. For a non-carving pumpkin party, you'll need embellishments and glue. Acrylic paints, ribbons, gems, glitter, lace, stencils, and markers will offer something for everyone. Take caution against allowing small children to use these tools.
Set the mood. Craft a fun playlist of songs! Michael Jackson's "Thriller" or Frank Sinatra's "Witchcraft" will get your carvers moving. Festive decor can enhance the mood too. It can be as modest as candles, a fall garland or wreath, or a tablecloth in autumn hues. A pennant banner and old-fashioned lanterns also add a special touch.
Don't forget the food. ​Whether you're serving up snacks or hosting a potluck, sticking to a simple menu is best. You can't go wrong with fall favorites. Sweet and savory roasted pumpkin seeds, mulled apple cider, and caramel apples are just the treats. For a more elegant affair, consider serving pumpkin cocktails and hors d'oeuvres. Guests will likely be busy with their pumpkins, so serving finger foods they can munch on hassle-free is the way to go. Happy pumpkin partying​!
For more of Diane's thoughts on etiquette related topics, connect with her Huffington Post.