I was invited to an informal dinner at my girlfriend's home this past week where I met a fascinating woman named Suzanne Gazda, a prominent neurologist in the city. There was instantly something special about Dr. Gazda, a.k.a. "Suzy". She asked thoughtful questions, rather than talking about herself, and the manner in which she made it a point to include everyone in the conversation was evident. In the world of etiquette it's called building relationships, and being authentically present. Interestingly, when prodded by another guest to share her story, Dr. Gazda passionately described her own experience assisting children in Northern Uganda afflicted with Nodding Syndrome, a disease that affects the brain and nervous system of children, primarily between the ages of 5-15.
The World Health Organization estimates over 7,000 children have already been affected by Nodding Syndrome in Uganda, South Sudan, and Tanzania—and the number is increasing as well as the geographical area affected.  Scientists from around the world have been unable to determine the cause. This condition has been studied by the World Health Organization and the Centers for Disease Control, but there are no answers—only questions regarding its cause and treatment. Nodding Disease kills many of its victims. Death appears often to be a result of accidents such as drowning, falling into a cook fire, or starvation, as seizures in the late stages of the disease make it virtually impossible for the child to eat.
Hope for HumaNS, formerly Gulu Hope, has been working in Northern Uganda since 2007 to help these special children, and I was moved to tears listening to the compassionate stories. Someone asked her thoughts on how getting involved in a cause such as this has impacted her own life. Her response was compelling and I asked for permission to post it on my blog.
Dr. Gazda's words:
"I have learned a million lessons through my experiences in Kampala, Uganda. I have seen and felt the immense pain of human suffering, and discovered how miraculously resilient the human spirit can be. Even under the harsh reality of unbelievable poverty, where people live on the edge of life and death every single day, there is a sense of hope. In most parts of America and in our daily lives, we simply have no idea, and can't fathom what this sort of pain looks or feels like.  I think consciously we all possess a deep, profound desire for happiness. All my life, and as a neurologist, I have been naturally "wired" to feel empathy for others. But only now, educated from a global point of view, do I see how giving, caring, and consideration for something far beyond myself brings such joy and fulfillment back to me.
When we feel pain, a part of our brain lights up, and when we see someone in physical pain, that same part of our brain will light up equally. There is a term in Africa; Ubuntu, which means "I am because you are," symbolizing the interconnections of our world. We all hold the power to positively impact others, and it is in our own lives and our own level of thinking that we can be the change that is needed, for ourselves and those most in need. It makes such perfect sense that we are all innately wired to care! I'm eternally grateful for my journeys to Africa, and for my own personal, and spiritual expedition. It is my deep honor to be a part of a picture bigger than myself and I can't wait to see what the future holds."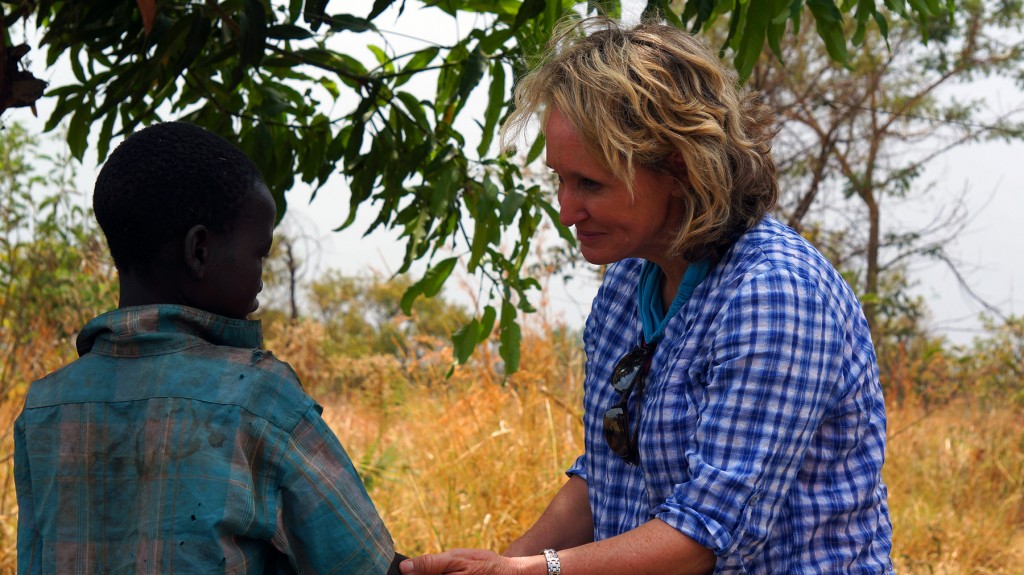 This season of Valentine's Day seems so small when you consider a box of chocolates, a bouquet of flowers, or a shiny bauble will make us happy. There are people all over the country, perhaps living as close as next door, in need of a helping hand. A personal touch would make a huge difference in their world. Valentine's Day can be extra special if we all make a point of giving the gift of kindness and compassion to another less fortunate, a person that won't expect it, or can't afford to do it for themselves. 
If you are interested in learning more about Hope For HumaNS, Caring for Children With Nodding Syndrome, visit their website. A donation in honor of Valentine's Day would be sweeter than a chocolate truffle! I encourage you to DREAM BIG and do something larger than yourself  this February 14th.