I was recently asked about my morning routine, and it made me wonder how other people welcome a new day. Do you jump out of bed, hop in the shower and dash out the door? Or maybe hit snooze until the last possible moment, throw on your clothes and frantically gather your keys, shoes and a quick toaster pop up for the road? Perhaps you approach things more slowly and quietly, padding around the house in your slippers or bare feet. I fall in the latter camp as I need to ease into the day peacefully when at all feasible. I try to wake up a little earlier than everyone else just to make room for this scenario. 
My routine begins with an aromatic cup of coffee. I never tire of picking out a favorite mug and pause to appreciate a particular feeling or memory the mug may prompt. I have a strict cream to coffee ratio, finding great satisfaction in noting the rich, caramel color in my cup. This early morning ceremony never loses the feel of luxury when the world is still dark and the demands of my calendar are momentarily paused. I relish these few minutes of peace before the daily race.
Let's face it – we all lead hectic lives; new moms getting up for nightly feedings, single moms juggling multiple jobs and raising kids, women and men squeezing 29 hours into a 24 hour day. Enjoying my morning coffee, whether I am at home or traveling for work, is an integral part to the success of my day. Conceivably it's not so much the flavor as it is respectful observance of my thoughts, the one constant in my life that I can control.
I was moved many years ago by a gift from a friend, a little yellow book called Grace Notes, by Alexandra Stoddard. I have been given many wonderful books throughout the years, but seldom does one influence me such as this did. In 1994, I was working on my Master's Degree and interning at an adult center called Grace Place, a facility that provides care for elderly with dementia. As a gift for my efforts, the director gave me Grace Notes and had the author sign it. It has proved to be a little tome of encouragement and wisdom, with a special section to write your own thoughts. Reading a page or two from the book is always an inspiration.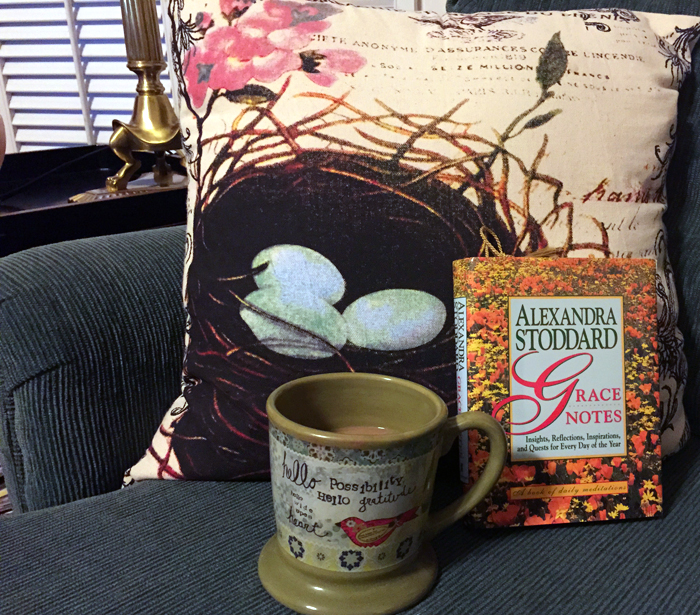 I also collect meaningful quotes to meditate on. The still of the morning is a wonderful time to contemplate my thoughts, where I am today, and what direction I aspire to move towards. One of my favorite affirmation cards says, "I don't have to do all the work, only my share." It's a powerful reminder that I don't always have to be in control. Morning solitude offers me the opportunity to reflect, rewind and nourish my soul with positive feelings, prayers and assertions. When you are taking the right steps, life generally gives you what you deserve. Not always…but that's another kind of lesson I ponder in the early hours of the day.
Whether you love coffee, herbal tea, a protein shake, or warm water with honey and lemon, I encourage you to move into your day with grace. Try setting your alarm a little bit earlier, find a comfortable spot – a couch, a cozy chair by the fireplace (even if the fire isn't lit), or a little outside space on your porch or apartment balcony. Take notice of what you are thinking, feeling, tasting, and praying for. Listen to the birds singing, take a peek at your children and listen to them gently breathing as they sleep, and don't miss the sun's rays reaching through the clouds, illuminating the world around you. Whether you schedule 5 minutes of solitude or 20 minutes of uninterrupted time, greet the day with a clear mind and an open heart.
Every day is a new beginning and another opportunity to get it right!