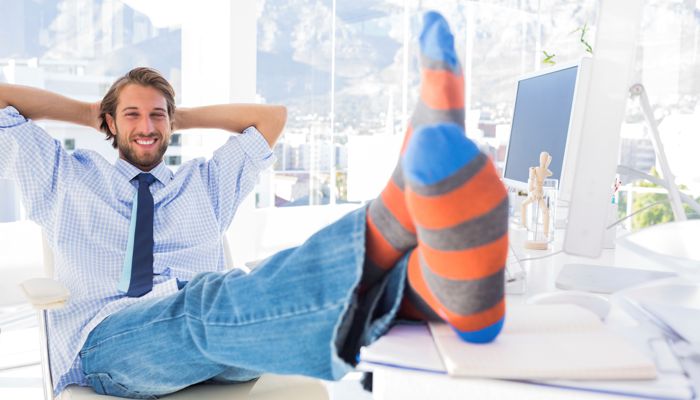 Dear Diane,
I am an MBA graduate, about to start a new job. The dress policy at my office is conservative, but there is room for a little self-expression. The women working at the company seem to wear more fashion-forward clothing, but the men are "stuck" in their traditional grey suits. How can I conform without feeling restricted?
The Merriam-Webster defines conservative as "one who adheres to traditional methods or views and is cautious or discreet." Perhaps you could show off your charismatic personality in your choice of socks.
This unlikely item has been in the spotlight lately; you've probably caught a glimpse of a fashion-forward pair on any number of celebrities as they take a seat for an interview. Socks have even entered the subscription service market (Mark Cuban invested in Foot Cardigan on a recent Shark Tank episode). It doesn't take much searching to find executives in all walks of life wearing happy, bright and eye-catching socks.
Traditionally, the rule for socks has been to match the color of your men's hosiery to your trouser. It's still a safe protocol for men working in conventional industries and attending uber formal black tie events.  However, if you feel restricted in your traditional grey suit, take a walk on the wild side by adding a sock with a subtle pattern or stripe, pin dot or even a mallard or boxer – all nice alternatives to a solid black, grey or blue. Go bold with a pair of bright colored, plaid or polka dot options, peeking out from under your grey or navy slacks. It's just a hint of your personality hugging your toes.
When making your daily selection, keep the following in mind:
Wear your socks calf length.
Always check for holes.
Refresh your sock wardrobe regularly to avoid signs wear.
Go for quality, comfort and the right fit.
A few favorites:
Before you get too creative with your sock selection, be sure to check your company policy to see if your style falls within their business attire guidelines. If it's a "go," you might even start a trend!
For more of Diane's business etiquette tips, subscribe to her articles on Huffington Post, "like'" Diane's Facebook page and follow her on Pinterest and Instagram.