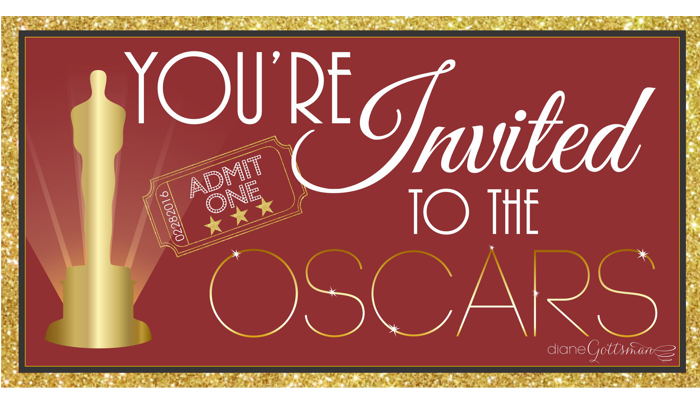 The Oscars help to set the stage for an incredible evening, complete with pre-show fashion, this year's two-time host Chris Rock, the presenters, nominees and performers. If you are entertaining guests in your home for the 88th Annual Academy Awards on Sunday, the details make all the difference. As you prepare for a dazzling night, consider the following:
Let the invitation be your guide.
For a black tie soiree, your invitation should have been in the mail by now. For something more informal, it's not too late to hand deliver a beautiful card if you have just finalized your last minute party plans.
Rent a red carpet.
Greet your guests as they arrive with a celebrity welcome. You can find a variety of options, from a roll of light plastic at the party shop to a beautiful remnant from your local carpet supplier. With a quick trip to a nearby hardware store and some handy spray-paint, you can complete the mood with DIY stanchions. You can find several tutorials on Pinterest.
Lights, camera, action.
Hire a photographer for the stars when they arrive. It can be as simple as recruiting a friend to volunteer to take pictures when people walk through the door. Hand them a cocktail and a prop and let them pose to their heart's content.
Provide plenty of comfortable seating.
Bettie Bearden Pardee, lifestyle expert, author, former magazine editor and television host and producer knows how to throw a party. Her popular blog, Private Newport is full of ideas and, when it comes to an Academy Awards watch party, she  recommends small chairs that can easily be moved around to encourage impromptu conversations: "It's a long evening, and the more you can do to make guests feel they have some flexibility and can 'circulate,' the happier they'll be."
Set up an award-winning buffet and serve photo-worthy libations.
A buffet saves space and is much easier to manage than a sit-down dinner. Private Newport menu suggestions include:
Lobster pot pie
Lollipop lamb chops (just like Spago)
Crab cakes
Beef tenderloin
Salad of shaved Brussels sprouts, cubed red and golden beets, crispy kale, roasted hazelnuts with a buttermilk shallot dressing
Salad of baby spinach, thinly sliced pears, red grapes, cashews in a curry vinaigrette

Watermelon in Oscar statuette cutouts with light balsamic vinegar and feta
Cheese chocolate statuettes painted with edible gold leaf are a show stopper
A variety of cocktail stations set up in different areas of the room
Have a best-dressed contest.
Award prizes to guests who pulled out all of the stops, from the 'Most Glamorous' to 'Who Wore it Best.'
Test your cinema knowledge with games and movie trivia.
You can find this version of Oscar bingo (below) in Therese Pollett's online shop, Anchor Printables. 

Cast your ballot.
Have a viewing party contest by downloading a 2016 Oscar Ballot, compliments of Sugar and Charm, a lifestyle blog created by Eden Passante.
Create your own acceptance speech.
Refer to my  Huffington Post article for tips on how to accept an award. "I'd like to thank…" (and don't forget your mother!)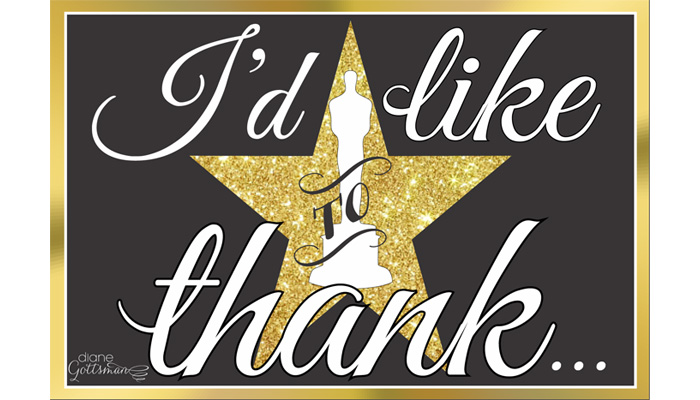 Delight guests with after-party swag bags.
Send your guests home with a memory of the eventful night. Hand everyone a gift as they depart; fill the bag with mini bottles of liquor, nail polish or anything your budget allows.
This Sunday, slip on your heels, straighten your bow tie and "Put on the Ritz" for an evening of fun. For more Oscar-inspired ideas, visit my Pinterest page. Don't forget to "Like" us on Facebook!