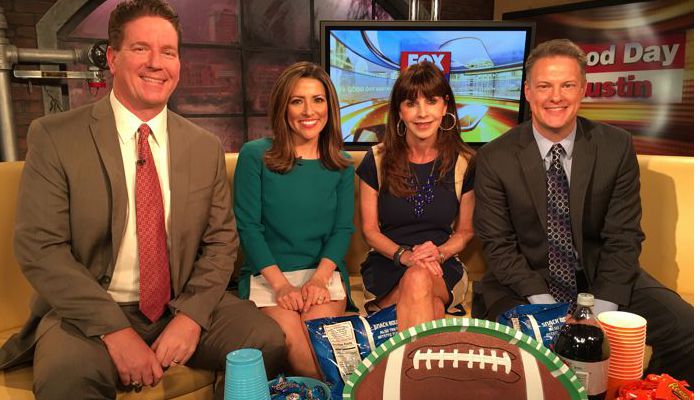 Just in case you missed my Super Bowl Fan Etiquette segment on Fox 7 Austin, click here to check out the entire video. Watch as the news anchors, Dave Froelich, Amanda Salinas and Zack Shields test their football fan know-how with Super Bowl 50 right around the corner. For a more detailed explanation, refer to the tips below.
This year, the Denver Broncos and Carolina Panthers will go head-to-head in the most watched sporting event in the United States. Chances are you are planning to host or attend a Super Bowl party while a lucky few will be able to witness the excitement yards away from the gridiron. Whether you are cheering from the sidelines or witnessing the excitement in a friend's living room, it is important to keep these etiquette reminders in mind.
Come bearing gifts. Whether you plan to stay for the first half or the entire game, bringing some type of food or beverage is an absolute must. Ask the host if there are any dietary restrictions you should be aware of before you make your purchases. When in doubt, chips & dip, a tray of cookies and beer are generally good choices.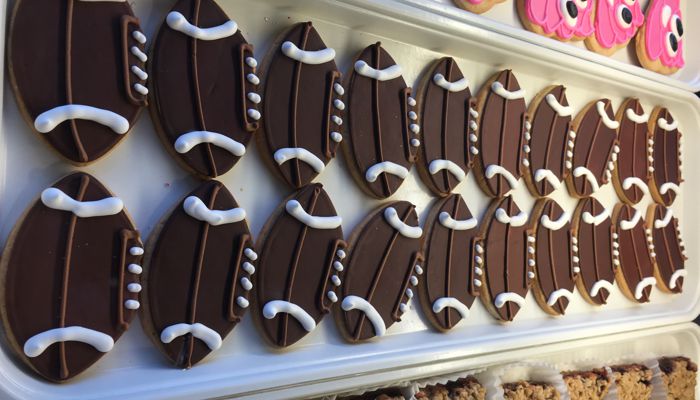 The sound of the Star Spangled Banner means it's time to remove your hat. Everyone knows that men are expected to take off their caps at the sound of the national anthem, but did you know this rule also applies to women? Both at the stadium or in someone's home, take off your sports cap to show respect.
Be mindful of others. At the stadium, if everyone else is on their feet, you have a pass to stand up and do the same. At a friend's home, either stay seated so everyone can see the game, or stand in back so you won't obstruct anyone else's view. The halftime show is just as important an event as the actual game to many viewers. Take your idle chatter or lengthy conversation to another part of the house.
Show your spirit. Even if you aren't normally a big football fan, join in the festivities by wearing something that represents your support for the team you plan to root for at the party. It's always more fun when you make an effort to be an active participant. At a family gathering, keep your spirit to a minimum by relying on the color of your jersey to show enthusiasm, rather than colorful vocabulary when your team misses the ball.
Arrive equipped with a little football knowledge. Know what teams are playing and a few of the players' names. While you may be there primarily for the food and to watch Beyonce, Cold Play or Bruno Mars, it's always good to know a few of the basics. Similar to political debates, it helps to be familiar with at least a couple of people on both sides. Here's a quick cheat sheet: the Broncos team colors are Orange and Navy; the Panthers team colors are Blue, Black and Silver. Dress accordingly. Mixing Orange and Teal is the Miami Dolphins! The head coach of the Broncos is Gary Kubiak, and the Quarterback is Peyton Manning. The head coach of the Panthers is Ron Rivera, and the Quarterback is Cam Newton. This year they are using the number "50" instead of the Roman numeral "L."
Be careful with your enthusiasm. A guy-on-guy chest bump may be perfectly fine, but the same force used on unassuming Aunt Frida will ruin her day. It's easy to get carried away when your team scores, but be aware of your own strength. Fight the urge to throw the remote at the television when you disagree with a call from the referee.
Demonstrate good sportsmanship. Taunting, booing and heckling your friends (or strangers in the stands) can get annoying very fast. Remember what your manners teacher taught you when you were a kid – be a humble winner and a gracious loser.
Monitor your alcohol intake. It's easy to lose track when you are excited or stressing out over the score. Make a mental note of how much you are drinking, keeping your beverage close to your body rather than up in the air where it can easily get jostled and spill on the person next to you.
Save your breath. It can be tempting to toss around a few colorful words when the wide receiver drops the ball, but remember there are families and members of your clergy in earshot. Chances are the ref isn't going to care about your feelings and screaming at him will do no good. Your obnoxious shouting may scare the kids, terrify the dog and startle the other guests.
Look into the eyes of the people you are irritating. When you must crawl over fellow fans to visit the restroom, always face the person you are crossing rather than give them your backside to view.
You may also find Super Bowl Party Ideas for Décor & Menu helpful. For more of Diane's etiquette tips, subscribe to her articles on Huffington Post, "like'" Diane's Facebook page and follow her on Pinterest and Instagram.