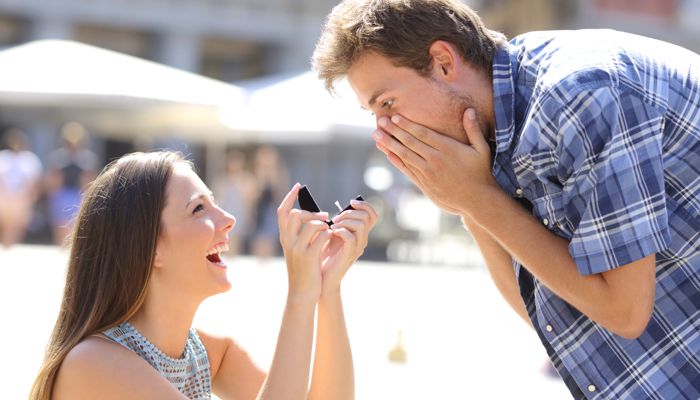 If you have a feeling your partner may pop the big question this upcoming Valentine's Day, today's post is for you! We are answering a few questions that will get you started on your way to "happily ever after," starting with the proposal.
Q: Does the person that is proposing always have to be the guy? 
A: I recently received a wedding invitation with the following verbiage: "She proposed and I said yes!" It fit the couple's personality, and there is no law that says one person has to wait for the other to pop the question. Though historically the traditional way was for the man to propose, it's not out of the norm for a woman today to broach the subject first. Still, according to an Associated Press WE TV poll: "Young adults are more likely than their elders to consider it 'unacceptable' for a woman to do the asking. More than one-third of those under age 30 disapprove."  That finding actually surprised me!
While quite a bit has changed since dowries and arranged marriages were the norm, some people still value old school customs. In the same survey, nearly half of single women who hope to get married someday say they would consider proposing. Like the saying goes … "If it feels right, do it." Just don't jump the gun and run the risk of looking anxious – on either side of the proposal debate.
Q:  Do I have to get down on one knee?
A: There is no "one size fits all" when it comes to the proposal. Getting down on one knee makes for a great story later in life, but it doesn't mean if he doesn't, it won't be happily ever after should he propose while you both are jumping out of a plane or deep sea diving. It certainly should be memorable, whatever the scenario.
Q: Should the bride-to-be have input on the selection of her wedding ring?
A: Every couple has different preferences, and the answer depends on the dynamic of your relationship. Some brides collect Pinterest photos for years while others may prefer to be surprised. In the spirit of your unique romance, listen to your partner's wishes and use your best judgment. If you are already in a conversation about wedding plans, don't hesitate to ask what they prefer. If your instinct is to surprise her, go for it. Just make sure the ring can be returned for another style if necessary.
Q: If you do not like the ring, should you say something or keep quiet and silently suffer?
A: This is why it's not always a bad idea to speak your mind. You love the guy but hate the ring, and now you are worried about hurt feelings. An honest conversation is not entirely out of line. If the ring is a family heirloom and it's been a tradition to pass it down from one generation to another, you might suggest keeping the ring and wearing it for special family occasions. Budget to purchase another for daily wear. Above all be sensitive and considerate with your words when you let your fiancé know you would rather choke than wear the ring he picked out.
Q: Who should pay for the ring?
A: This depends on how you and your other half have decided to handle the finances (joint account, separate accounts, or both). If you are living together and split the bills each month, you may already be budgeting for a ring. On the other hand, you or your soon-to-be fiancé may have been saving for this occasion and wish to take full responsibility for the cost of the special piece of jewelry.
Q: When should I post my "I said yes!" picture on social media?
A: As a courtesy, I recommend calling close friends and family members before sharing engagement photos officially online. This also gives you the opportunity fill them in on the details of the special event.
Q: When should I change my FB status?
A: A change of status from "in a relationship" to "engaged" will often notify not only your friends but your fiancé's friends as well. For that reason, talk it over with him first so ensure the timing is right for both circles of friends and family to celebrate.
Q: Can I recycle (reuse) a previously worn engagement ring?
A: In today's information age, repurposing a ring from a previous relationship can present the risk of your present or former partner finding out, not to mention the superstition that may be attached to the notion of wearing someone else's ring. On the other hand, your great grandmother's ring may be the perfect choice. I highly discourage using a ring that was formerly worn by another partner. That would certainly be a red flag for me!
Q: If you break up, should the ring be returned?
A: It depends on the circumstances. If you called the engagement off and are not the one who purchased the ring (and there is still a large balance on the account), it would be an act of goodwill to offer to return it. If you were caught in a compromising situation, and there is much discord associated with the break-up – let it go. There is no "one size fits all," and if the reason not to return the ring is greed or malice, you need to rethink your decision and do the right thing. Again, just like each relationship, every situation requires a different approach.
You may also find Proper Etiquette for Announcing Your Engagement helpful.  For more of Diane's business etiquette tips, subscribe to her articles on Huffington Post, "Like'" Diane's Facebook page and follow her on Pinterest and Instagram.