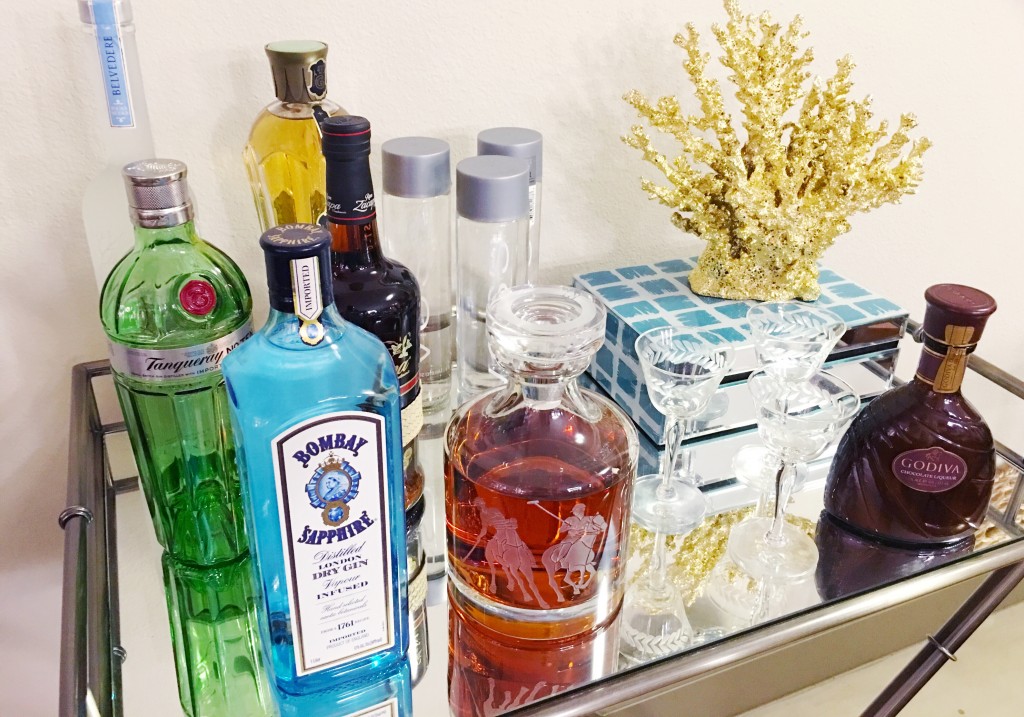 The resurgence of bar carts is probably due in part to Don Draper's leading role in Mad Men and offers many opportunities get your creative juices flowing. Today, a bar cart isn't limited to housing your libations, though it makes an elegant statement when stocked artfully. You can find a use for them from the entryway to the backyard. Here are a few ideas to inspire you to restyle one to suit your needs and enhance your home.
Alcohol Optional
When a bar cart is included in your party setup, guests are able to replenish their beverages with ease. Offer an array of drink options, beautiful glassware, festive stirrers, bright straws, lime wedges, and salt/sugar for the rim of the glass. Include spicy tomato juice and flavored water for those that choose to enjoy the party but not imbibe.
Good Morning
If you are a coffee or tea lover, a bar cart is a perfect way to highlight your favorite finds. The goal is to keep it clean and orderly. Find matching containers for your coffee or loose leaf teas. Set out a serving tray with sugars, creamers and honey. The bottom portion of the cart is an ideal place for decorative vintage teapots and a mug tree that holds cozy cups.
Welcomed Attraction
A bar cart in the foyer of your home not only welcomes guests but becomes a way to organize your life. Hang your pets' stylish leashes on your cart so that a): you remember where you put them, and b): you can get to their needs quickly! Sort the mail and keep your keys uncovered with the addition of multiple baskets in various sizes. Fill in the spaces with a lovely succulent arrangement, favorite books and knick-knacks.
Hands On
Get your craft room/gift wrapping room under control. A bar cart provides a great method to store various supplies. The best part – if you have a cart that rolls, you can transport it to other areas of the house to tackle a project at the kitchen table. Use recycled jars for colored pencils, markers, scissors and such. Wrapping paper can be arranged on the bottom shelf along with ribbons.
Getting It Together
Need a stylish way to corral your beauty products? Incorporating a bar cart in the bathroom will add a posh feel to an already intimate space. Fresh towels find a home on the bottom shelf either perfectly folded or rolled and placed in a decorative basket. Unique containers can house your makeup brushes and amenities. Decorate with fresh flowers and antique perfume bottles.
Sleep Tight
Give your guest room a touch of boutique style. Use a bar cart for amenities that overnight guests may need. Bottled water, snacks and magazines make your visitor feel at home. Include mini toiletries like shampoo, conditioner, body wash, lotion, and, of course, toothpaste, just in case they forgot. On the bottom shelf add in an extra blanket and pillow. Leave a handwritten welcome note for a special touch.
Green Thumb
Create a unique backyard conversation piece with a bar cart. Using assorted pots start with an herb station on the top level. Create nameplates with Popsicle sticks painted with chalk paint. Larger plants fit nicely on the bottom, as do your garden tools, soil and watering can.
The list is endless. Share your thoughts on styling your own bar cart over on our Facebook page.
For more of Diane's lifestyle etiquette tips, follow her on Pinterest and Instagram.