People typically fill Easter baskets with chocolate bunnies, jellybeans and trinkets for their kids, but Easter fun is for everyone!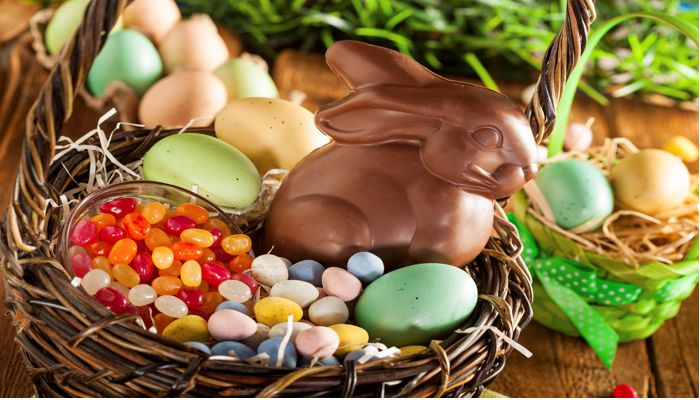 We've come up with several Easter basket ideas to complement the personalities and tastes of your inner circle. You'll give them something sweet that will have them ready to spring, well…into Spring!
For the Wine Lover
We all love a great bottle of wine, so why not treat the bestie who yearns to be a sommelier to a basket that will have her ready to host a wine tasting. Things to include: a travel corkscrew, two wine glasses, an automatic wine opener, a couple of types of hard cheese, cured meats, a french baguette and her favorite bottle of wine.
For the Gardener
If your BFF loves getting up close and personal with Mother Earth, surprise her with a basket overflowing with items that will make time spent in the garden even more enjoyable. Toss in a good pair of gardening gloves, a sturdy shovel and trowel, a foam kneeling pad, bulbs or seed packets and a lovely new outdoor hat. And, of course, a good SPF sunscreen.
For the Foodie
It's time to send your friend into the place she finds refuge: the kitchen! An excellent way to celebrate Easter for the chef in your circle is with great gourmet finds for her baking and cooking adventures. Shop for rubs and spices, local honey, a colorful and fun apron, a new cookbook and a good kitchen timer.
For the Movie Buff
Any time a new movie is in theaters or hits Apple TV, this is the friend who is hosts a movie night at her house. Create a thriller of a basket with items that are sure to please your nearest and dearest. Things to include: gourmet popcorn and seasoning, large decorative bowls, an assortment of bite-size candies, small packs of tissue (for watching Steel Magnolia for the 10th time!) and a gift card your local theater.
For the Fashionista
If style is on her radar, she will love a basket full of vogue necessities that will keep her feeling posh and pampered. Consider a few style magazines, a gilded headband, a collarbone necklace, a hot red lipstick and a mini sewing kit for emergency wardrobe malfunctions. Fill a summer tote with Easter grass and add a spring colored nail polish.
For the Fitness Fan
She's always raving about the newest routine (she loves Orange Theory but still goes to her weekly Pilates classes)  and is the most dedicated exercise friend in your group. Give this health conscious pal accessories that will simplify her warm up, cool down, and everything in between so she can perform at her best. Things to include: a top-quality water bottle, colorful resistance bands, tasty protein bars and a foam roller to rub out those sore muscles. Bright running socks are another perk.
Don't Forget the Details
Get creative with your containers. You don't have to stay classic. Baskets can be anything that showcases your gift in a unique and attractive way. Go traditional with a gorgeous frilly basket that is ready to be filled or think about recycling crates that you can stencil or paint as a DIY project.
For more entertaining and Easter inspiration, visit my Pinterest board, Spring Entertaining.
 Subscribe to Diane's articles on Huffington Post, "like'" her Facebook page and follow her on Pinterest and Instagram.