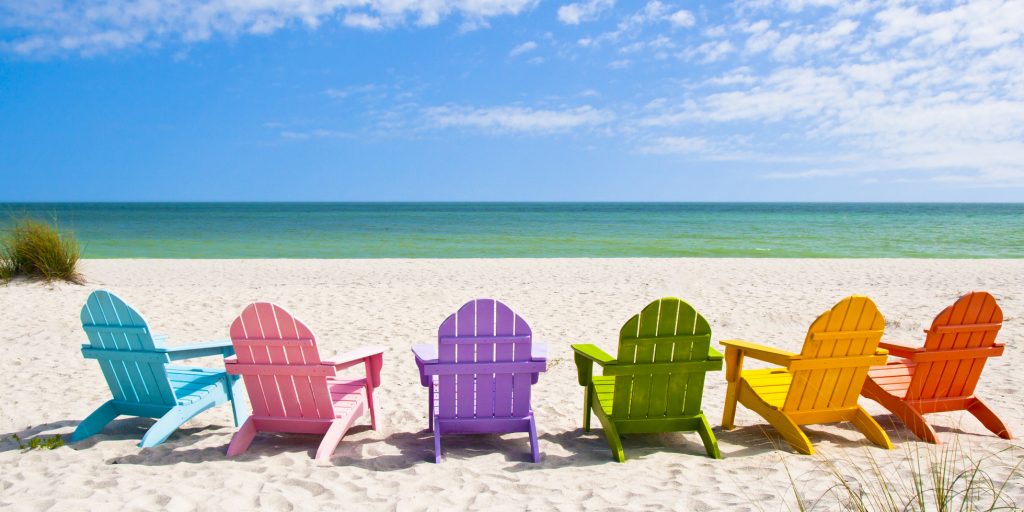 If your summer plans include sunshine and plenty of waves, here are a few beach etiquette courtesies to pack along with your bathing suit and sunscreen. You might be thinking, "She's got a rule for everything!" and that may be true. After all, sharing the sandy shores with a thousand strangers can get sticky if you forget how to behave in crowds.
In that vein, here are my 10 tips on how to have fun in the sun without getting burned:
1. Shake out your towel downwind, away from your neighbors.
Is there anything worse than taking a bite out of cold watermelon and simultaneously ingesting a mouthful of sand? Not much! Suntan oil is also a magnet for unwelcome gritty particles. An accidental burst of sand from your neighbor's towel is nothing short of annoying.
2. Keep your music down.
You may think your music is free entertainment for those around you, but everyone has their favorite genres and artists. Plus, many people prefer to relax or read a book. Pack your noise canceling earbuds and enjoy your playlist solo.
3. Walk, don't run.
Avoid skidding and running (and keep an eye on your children) around people who are laying on their beach towels nearby. It kicks up sand and stirs up attitudes.
4. Use beach carts with caution.
The beach is not a raceway, nor a three lane highway. Watch out for children and tourists who are collecting shells and blissfully unaware of their surroundings. Follow the speed limit and focus on the road – or in this case, the beach.
5. Don't feed the birds!
Once you encourage the seagulls to come near, you will realize they don't have beach manners.
6. Follow the posted rules.
If the sign says, no grilling, no surfing, no diving, etc., heed the warning. You put yourself and others at risk by ignoring the warning signs.
7. Monitor your kids.
The beach is huge, but space is at a premium. Be mindful of adults who don't want your children tossing a Frisbee into their area. Some people love to build intricate sand castles, and it may not be amusing to the architect if your kid kicks the masterpiece over before he has had a chance to take an Instagram picture.
8. Keep your language G-rated.
By all means, have a great time with your friends and allow the toddlers and teens to do the same next to you. After a few beers, inhibitions may be lowered; moms and dads on a family vacation would appreciate your discretion when it comes to your vocabulary.
9. Tan topless at home and rethink your speedo.
Most sun lovers appreciate an even tan, and that's the beauty of backyard privacy. When you are on a public beach, tie your strings, fasten your straps, and zip up. As far as a tiny speedo, it takes a certain confidence to pull it off. If you decide to go for it, don't be surprised if people stare!
10. Clean up your area.
Before you call it a day, fill the holes you dug earlier to secure your tent, gather soda cans, plastic bottles, and empty suntan bottles. Take a look around for stray beach toys, your sunglasses, and the kids flip flops. It never fails that something will get left behind if you don't do a thorough check.
You may also enjoy my Beach Etiquette reminders via The Today Show.
For more of Diane's etiquette tips, read her Inc. contributions, subscribe to her articles on Huffington Post, "like" The Protocol School of Texas on Facebook, or follow her on Pinterest and Instagram.