As we approach the holiday season, I thought it would be helpful (and fun!) to get better acquainted with an array of glassware options you may want to include in your festivities. Let's get started …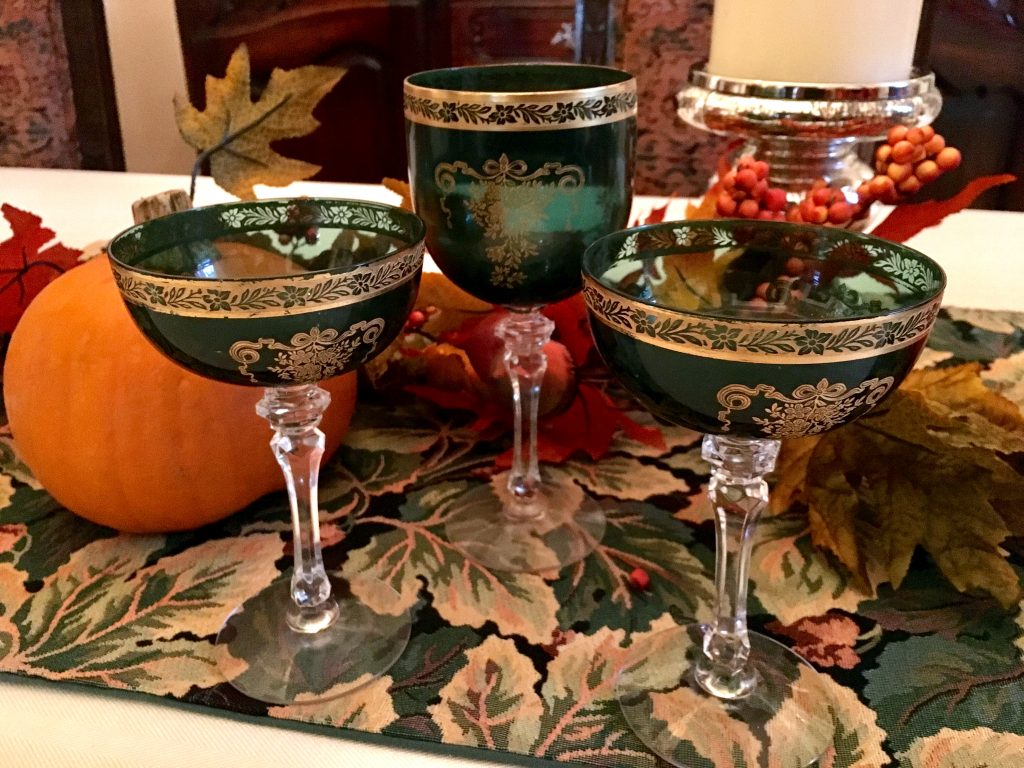 Get party ready.
It's time to take inventory of your current supply of glassware. Determine what you have and any items you still need to purchase. Make a list and carry it with you as you shop. Here are some bar staples:
Red wine glass – A full, rounded bowl, varying (often shorter) stem height.
White wine glass – A slim, narrow bowl, and a taller stem.
Champagne flute – A tall, thin, elongated bowl, on a stemmed base.
Champagne coupe – A wide, shallow bowl on a stem.
Sherry glass – A narrow, tapered bowl, with a stemmed base.
Tumbler – A straight glass with no base, comes in different sizes. Used for water, sodas, whiskey, juice and mixed drinks.
Brandy snifter – A wide, rounded bowl with a short stem.
Start your collection.
Perhaps you don't have family members who passed down vintage champagne coupes or ornate Brandy snifters. Now is the perfect occasion to curate your own unique glassware assortment. Worry not, you don't have to spend a fortune. Visit tag sales, antique stores and your favorite re-sale sites. There are lots of great deals to be found, and varying the styles adds visual interest.

Consider alternative uses.
Just because you don't have a particular piece of stemware doesn't mean you can't serve a certain drink. Find a beverage you like and make use of what you have on hand. The key is to place most of your attention on your guests once the party gets rolling. Serve a signature dessert in your pretty coupe and mulled cider in your red wine glasses.
Decor.
Special pieces can easily add beauty and interest to your table decor. Place gorgeous seasonal blooms (clipped short) in a glass for each guest, adding to their personalized place setting. Fill a small vessel with fresh berries or acorns, or opt for seasonal leaves or sprigs of evergreen for a botanical look.
Share your stories.
Pretty glassware offers a level of festivity, formality, and a window to memories that can bring distinction to the table top. It not only allows you to showcase elegant pieces but provides you with an opportunity to tell of their origin. Who doesn't love reminiscing over personal pieces and special stories from the past?
A friend of mine gave me some beautiful wine glasses several years ago because he noticed an illustration in one of my favorite holiday books and thought I would enjoy receiving a similar set as a gift. Not only will they continue to remind me of one of my favorite holiday stories, A Christmas Carol, by Charles Dickens, but every time I set my table and share them with others, I appreciate my friend's thoughtful gesture.
I have other pieces of barware with equally special memories. The red wine glasses I often use were a gift from a neighbor who was moving and wanted me to remember her after she was off to a new adventure. My green champagne coupes were purchased on a trip to New England, several seasons back.
I have a set of Moscow Mule mugs which were first introduced to me when visiting a friend in England. She included the beautiful copper mugs on a simple wicker tray, accompanied with some fabulous linen napkins.  Every time I use the mugs, I think of her and the fun trip we shared. Here is a set of cocktail napkins by Lettermade that I plan to use to complement my mulled wine this holiday season.
That's the essence of entertaining – sharing your home with people you care about, and providing a place for authentic connection. While I always aim to share practical tips and advice here on the blog, I love to imagine how each person will thoughtfully plan their upcoming holiday events, incorporating their own style, personality and good taste.
Here's a quick glassware primer: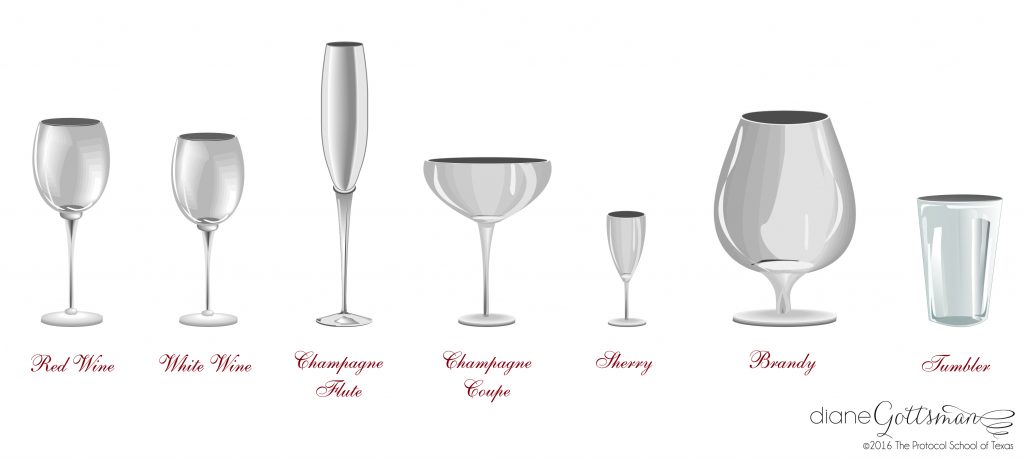 You may also like 10 Things Every Holiday Host Should Know. Read Diane's Inc. contributions, subscribe to her articles on the Huffington Post, "like" The Protocol School of Texas on Facebook, and follow her on Pinterest and Instagram.