Plans to host holiday events that are unique, thoughtful and festive are well underway. Creating inspired place settings is one fantastic way to achieve this goal.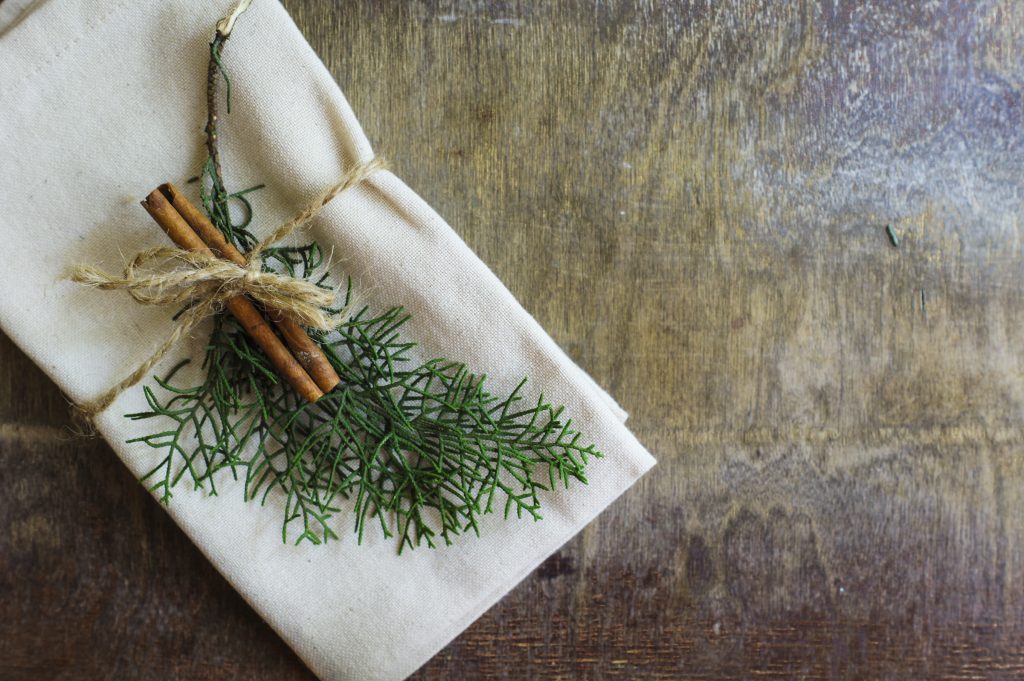 Guests will marvel at the personalized touches you've set up just for them. Not only will these details act as embellishment, but they'll double as party favors for all who attend.
1. Warm Wooly Mittens
Purchase an inexpensive pair of woolen mittens for each of your guests. Set the table with your favorite china, fold a simple linen napkin and place it in the center of the plate. Top it with mittens or gloves with the utensils set inside. Add a sprig of rosemary and write their name on a place card for a classic holiday touch.
2. Baby Saplings
Purchase baby coniferous trees from a local nursery or site, ordering one per guest. There are also realistic faux tree options on the market, or in your local retail store. Wrap each tree base in burlap, tie a bow with twine or red grosgrain ribbon, and write the guest's name on a hang tag. Your friends and family will love taking home a miniature Christmas tree which can be enjoyed for years to come. We planted ours 19 years ago when my son was a baby, and it's fun to watch them both grow and mature.
3. Christmas Ornaments
Everyone loves receiving a beautiful new ornament for their tree. Select a different ornament for each person to achieve a thoughtful hand-selected feel, or order letter ornaments like this glittered one from Pottery Barn (it's on my wishlist) to coordinate with the names of your guests.
4. Gilded Acorns or Magnolia Leaves
If you have access to large acorns or magnolia leaves, gather and paint them gold with craft paint. Leave them to dry for at least one day. Or, purchase gilded magnolia leaves and add a tiny place card.
5. Cinnamon or Peppermint Sticks
Gather a small cluster and tie with red and white baker's twine. Add the mittens above to carry over the theme. The wrapped bunch will surely add appeal and a nice scent to the table.
6. Apothecary Jars or Cloches
Stylize place settings with small bits of reindeer moss, gravel, succulents and other plants. Use items that are readily available and native to your area, or find fun and exotic ones from your local nursery. Try an alternate route with colorful holiday candies for a different look with a small bunting place card inside the glass jar.
7. Miniature Wreaths of Rosemary
Take a sprig of fresh rosemary, loop it into a circle and secure it with ivory twine. You've now created a simple place setting sized wreath that is fragrant and beautiful.
Regardless of the number of guests, each person will undoubtedly appreciate the thoughtfulness that went into each and every touch.
You may also like Let Dame Nature Lend A Helping Hand This Holiday. Read Diane's Inc. contributions, subscribe to her articles on the Huffington Post, "like" The Protocol School of Texas on Facebook, and follow her on Pinterest and Instagram.