Hashtags are incredibly useful tools for reaching a targeted audience on social media channels.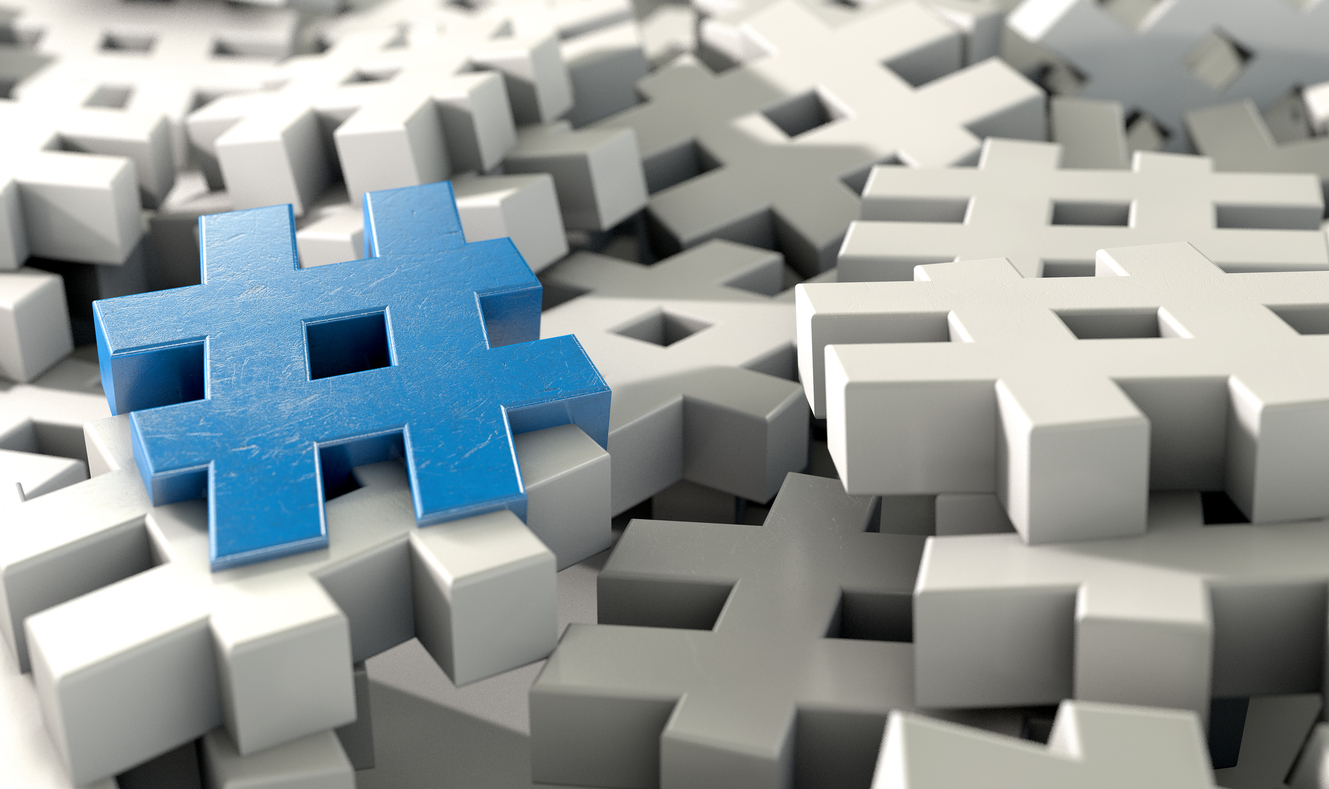 On Facebook and Instagram, hashtags serve as tags to help find posts identified with descriptive keywords. On Twitter, hashtags help you find topic conversations to join and connect with people who share your interests.
The following is a look at what hashtags are and how they can benefit you.
What are hashtags?
Simply put, hashtags are keywords or phrases added to public posts to help users find a topic. When a user clicks a hashtag, all posts tagged with the same hashtag appear in a single thread. It's a great way for users who share common interests to connect.
Some are goldmines and others can be minefields. It's in your best interest to know how to use hashtags wisely.
Common types of hashtags:
Disasters, tragedies and breaking news: #FCSChamp
Events or conferences: #SXSW
Holidays or celebrations: #NationalCookieDay
Brand slogans: #BeautyTogether, #ShopLetterMade, #ItsNeverJustACough
Brand or group chats: #TheLateShow, #Robitussin
General interest: #Chocolate, #Travel, #Etiquette
Disasters and tragedies
Disasters often earn hashtags as people look to spread news or offer consolation. Friday's tragic event saw #FtLauderdale trending after news of the tragedy.
The only acceptable way for a brand to tweet using a tragedy hashtag is to offer information or a straightforward expression of grief, sympathy or support, avoiding your own brand hashtag or mention.
Current events
Trending news or hot buttons can work for, or against your brand. If you are a business, steer clear of political or religious issues unless you are ready to take a hit in popularity.
Brand chats, slogans, and contests
Joining a brand chat for a related industry is fine, as long as you keep it conversational and friendly. It's not a good idea to take on a competitor, advertise your product, or try to redirect the conversation.  Focus your efforts by picking a few active participants to retweet and answer directly.
Group chats
Group chats on Twitter are often run by brands, but they are interest-focused. Chat organizers usually invite a guest host and define a list of questions or talking points. I recommend attending group chats regularly to build your online presence. It's a great way to connect with people who share your passions, and you can find chats for almost any industry.
Some examples:
#AgChat is a weekly conversation for people involved in the business of growing food, fuel, feed and fiber. (Tuesdays at 8-10 pm ET.)
#MediaChat is a Twitter chat featuring guests on social and online media, new apps and anything media related. (Thursdays at 10 pm ET.)
#Brandchat is a recurring branding chat. (Wednesdays at 11 am ET.)
#KBTribechat is a Kitchen & Bath Industry Twitter chat. (Wednesdays at 2-3 pm ET.)
#WomeninTechChat is a weekly Twitter chat hosted by @TiffanyHoran. (Tuesdays at 7 pm ET.)
Events and conferences
Picture hundreds or thousands of people who paid a great deal of money to gather and talk about your industry. Events and conferences are a giant pool of influencers who gather for the purpose of networking and gaining knowledge. Whether you attend or not, follow the hashtag, re-post, and ask follow-up questions. Be a part of the conversation, even if you can't be there in person.
General hashtags
Jump in. A good rule for hashtag success is to be upbeat, clever, and include great photos.
Using hashtags on your social media posts and images will help you connect with people who share your interests. Hashtag etiquette requires you think of others, be respectful and polite, and by all means participate in lively conversations. Avoid using your conversations to sell or brag. Relax and talk to people naturally inclined to be on the same page.
As you build trust and goodwill, your network will grow, and you'll earn brand evangelists and enthusiastic advocates who will help you spread a positive brand image.
For more of Diane's etiquette tips, you may also like 6 Reasons You Shouldn't Friend Your Employees on Social Media. Read her posts on Inc., subscribe to her articles on The Huffington Post, "like" The Protocol School of Texas on Facebook, and follow her on Pinterest,  Instagram and Twitter.