No one deserves to be celebrated more than the one who does the planning, shopping, nose wiping and gift buying – your sweet mom! Here are a few questions I answered this week on Fox 7, Good Day Austin.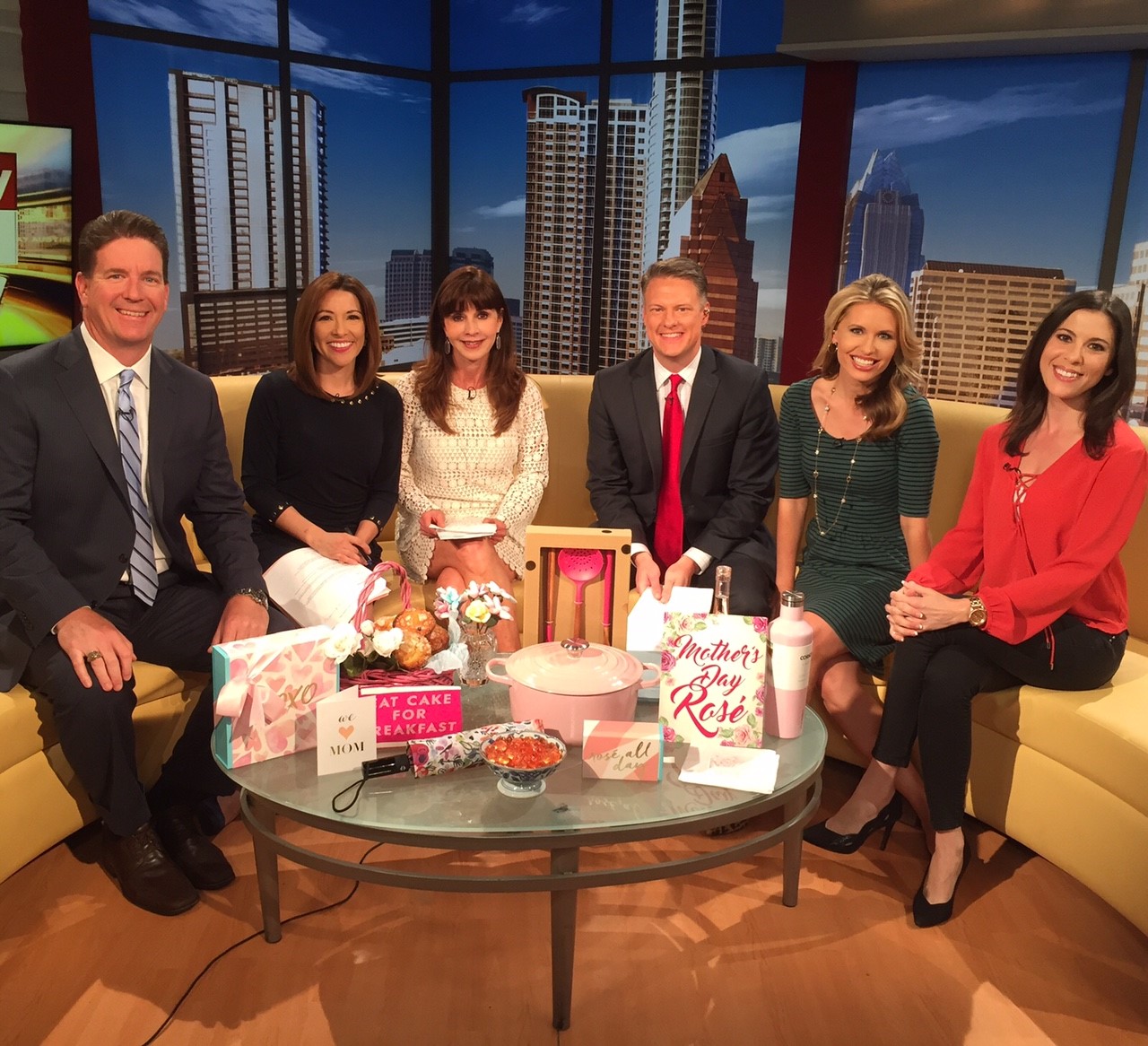 Zack Shields, Amanda Salinas, Dave Froehlich, Lauren Petrowski and Danielle Saar on Fox 7 KTBC Good Day Austin
How can I celebrate mom without breaking the bank?
Think in themes. Put together a collection of gifts that fit mom's personality. My theme for the year is "Mother's Day Rosé," emphasizing wine and roses. I've selected all pink gifts to coincide with the color scheme but you can focus on something you know your mother will love. One girlfriend is doing a nautical theme for her mom, while another is taking my idea and cooking an entire meal around the rosé theme.
I've heard household items are not good Mother's Day gifts. Do you agree?
Generally, I would discourage buying mom a gift that is going to put her to work, however, there are exceptions. Receiving a good quality kitchen tool or gadget will most likely make mom smile every time she uses it, thinking of you. For a cook, colorful houseware items will add a pop of color to a space where spends a lot of time, plus remind her of your thoughtfulness. A gardener may love tools that will make her hobby more fun than work.
I have elderly neighbors that I would like to include on Mother's Day. What do you suggest I give?
Gifting something she can eat or enjoy is a nice way to honor them. A pretty arrangement of flowers from your garden, a flowering plant to brighten her porch, some home baked bread or a breakfast casserole would be welcome and appreciated. Give your neighbor(s) a heads up in advance if you plan to bring a warm breakfast dish over.
Should I recognize my stepmother on Mother's Day?
Stepparents often struggle to find their place in a family. If you share a comfortable relationship with your stepmom, remember her with a card or gift to mark the occasion. You might consider a bottle of her favorite wine or a pretty set of wine glasses. Of course, cocktail napkins are always top of my list (my current favorite include the saying "All Day Rosé", my theme for this year's Mother's Day) or rose' flavored gummy bears.
My daughter-in-law is pregnant and I want to acknowledge her. Do you have any suggestions?
Something fun to pamper her as she awaits the arrival of your grandchild would make a nice gift. A beautiful tin of chocolates, her favorite bath salts or a scented candle to help her relax is another way to let your daughter-in-law know you are happily sharing your day with her.
What can I buy for mom that she wouldn't buy for herself?
Mom's tend to think of others before splurging on themselves. All mothers have an umbrella for rainy days, but may not want to spend the extra cash on an extra fancy one for herself. A few other suggestions are a pretty in pink travel mug (or your mother's favorite color), a new purse or a lovely crystal vase filled with roses.
Should husbands acknowledge their wife for Mother's Day, or reserve the tradition for the kids?
It's a gesture of love to show your wife you appreciate the way she takes care of the children (and you!) Buying her a card specifically from you, along with a modest gift, is a nice way to show appreciation for her hard work. And of course, help your children—especially the younger ones—choose something that your wife will love. I'm sure she will reciprocate when Father's Day rolls around.
For more ideas, visit my Mother's Day Pinterest board.
You may also like Mother's Day Etiquette. For more of Diane's etiquette tips read her posts on Inc., subscribe to her articles on Huff Post, "like" The Protocol School of Texas on Facebook, and follow her on Pinterest, Instagram and Twitter. Buy her new book, Modern Etiquette for a Better Life.