The ceremony was beautiful and you've just returned from the honeymoon. What's next?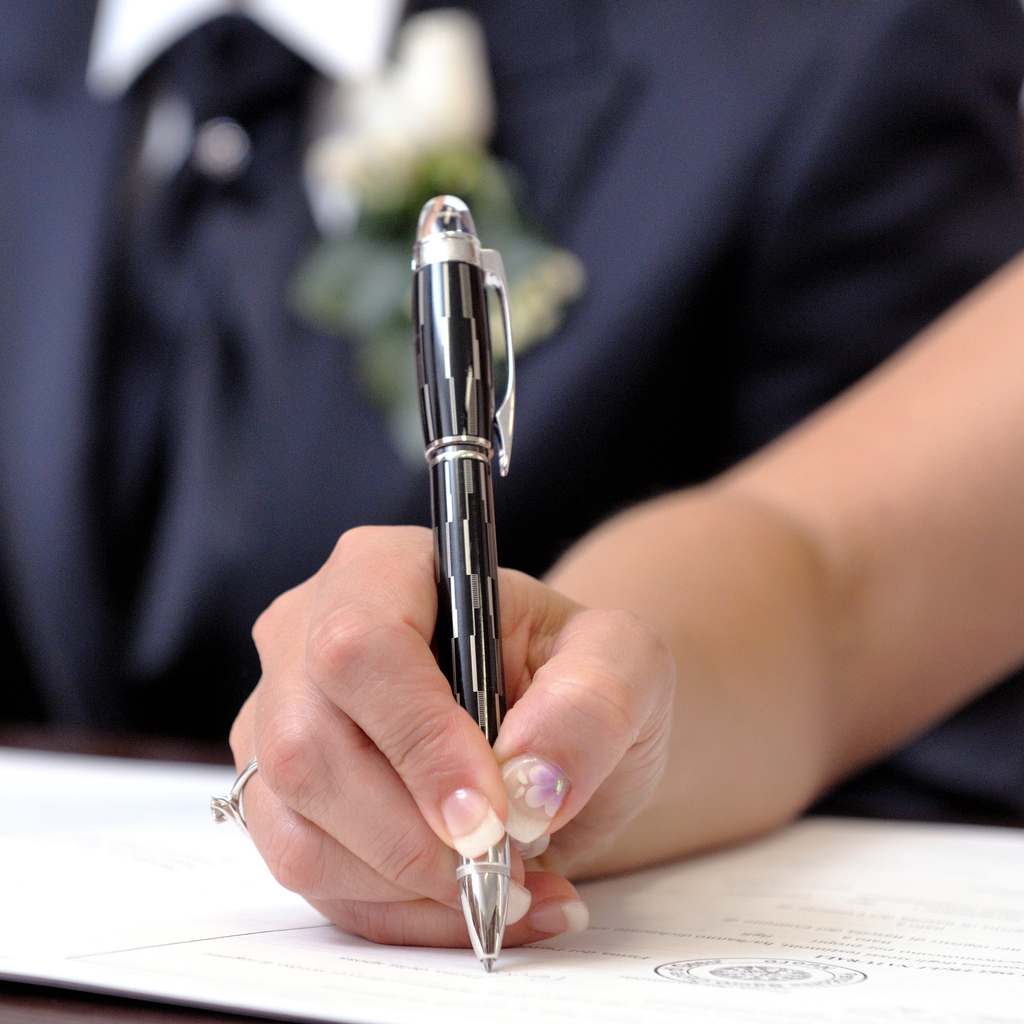 If you've decided to take your new spouse's name, there is still one more hurdle to clear. The time-honored tradition of taking the husband's last name is still the most popular choice according to recent surveys. Still, the number of women keeping their surname is on the rise. Roughly 20 percent of women keep their maiden name upon marriage, and 10 percent take another route, such as adding their husband's name to their own with a hyphen.
This trend is due to a variety of factors: women have established themselves in their careers with their maiden name and don't want to change it. Others start a marriage with their maiden name but feel compelled to change it when children enter the picture. And some woman simply want to keep their name—no reason necessary. For those who do opt to change their last name, here are some tips to keep in mind. 
Get Multiple Copies of Your Marriage License
This is the first step in the process. Contact the municipal authority that issued your marriage license and request certified copies. It's safe to get two or three official copies since you may need to submit them to multiple agencies; in other cases, photocopies will do.
Begin the Process at the Social Security Administration
The journey of changing your last name continues with the Social Security Administration. It normally requires a visit to your nearest social security office to present your documents and sign forms, though you may be able to do so by mail. Once you get a new social security card, it will be easy to update your driver's license, financial accounts and more.
Take a Number at the DMV
Your updated social security card is usually necessary to change your driver's license. Check the policies in your state and be sure to bring all the required documents.
Consider Your SEO
If you have built a professional brand or significant online presence, changing your surname may have a more dramatic consequence. For example, if you have a business (Jane Doe Photography) or a blog, think through the steps involved before making the switch. You may decide to change your name legally but continue to use your established name professionally.
Decide How to Handle Your Online Presence
Changing the name associated with your email address is usually as simple as going into your email settings. If you want to change the email address itself (for example, from janedoe@email.com to janesmith@email.com), you will need to set up an account in your new name. Update your name in the automated signature line of your emails as well and forward incoming mail from your old handle to your new address.
Update Your Contact Information With Important Institutions
If you are changing your address, kill two birds with one stone by remembering to update your name on your important documents as well. Don't forget these vital places to update your contact information with your new name and address.
Your Financial Institutions
This includes any place you bank, invest, have lines of credit (including a mortgage) or carry insurance policies, including auto, life, health and home. Consider getting a credit report for a comprehensive list of your accounts. Also take this opportunity to update the beneficiary information on any financial accounts so any assets from retirement accounts or insurance policies will go to your spouse if something happens to you.
Your HR Department
Make sure your payroll and benefits information reflects your new name. You may also need new business cards, an updated work email address (with emails to your old address forwarded to your new one) and a name-change in company directories.
Other Places
Your landlord

Utilities: Electric, water, cable and cell service

Voter Registration

Passport

Healthcare providers: For most people, it's easiest to do this at your next appointment. Take in your health insurance card with your new name.

Post office

Professional associations

Social media accounts

Airline mileage reward programs: Airlines may not make this easy to do—some frequent flyer programs require a notarized document to reflect a name change—but remember to update to take full advantage of any rewards you've accumulated.

Legal documents and your will: If you don't have one, it's a good time to get one as you embark on your new life as one part of a married couple.
For more of Diane's etiquette tips, you may enjoy Wedding Etiquette: Rules and Traditions. Read her posts on Inc., subscribe to her articles on HuffPost, "like" The Protocol School of Texas on Facebook, and follow her on Pinterest, Instagram and Twitter. Buy her new book, Modern Etiquette for a Better Life.