Whether you are celebrating in a parking lot, or inviting people over to enjoy the game at your home, it's important to have a game plan. 
Get Ready
Offer a variety of warm options in your crockpots, such as chips and your famous white queso, red bean chili for Frito pie and a hearty beef stew. Stack bowls and utensils nearby and let your guests serve themselves.
Individual jarred salads add a special touch. Instead of making a large bowl of greens, buy canning jars and fill them with a variety of healthy vegetables. Experiment with greens you may not normally eat. Start with the salad dressing on the bottom and "build up" with the most delicate vegetables at the top. Get creative and add fruit, seeds and nuts. All it will take is a quick stir and you have your own salad.
A charcuterie tray with a selection of meats and cheese is a welcome snack to nibble on while you are watching the game. Salami, cured ham, pate, olives, nuts and an interesting fromage will entice your guests.
Grilled sliders, sausage and wings are always a hearty addition. It will require some planning and a portable grill if you are taking your tailgate party on the road. Enlist a volunteer grill master and a few more volunteers to assist in the cooking.
Add a few flavors of popcorn to your party table. Set out tall, decorative jars and fill them with popcorn in your favorite team's signature colors. Include a scoop in each jar and offer small cups so guests can fill them with their preferred flavor.
Provide a bar with a bucket of specialty beer, bottled water and soda. Set it on a pretty plaid blanket as a tablecloth for a stylish fall touch.
Get Set
Check the batteries on the remote and don't forget to test the television channel to make sure everything is in working order. If you're tailgating outside, bring along folding chairs and tables and set up a canopy to protect guests from the weather. Hang LED lights inside to give the party an extra festive mood.
Be prepared for unwanted pests by spraying the yard for insects. Bring along insect repellant if you are not at home.
Provide inside and outside seating by arranging for a television to be set up in the backyard. Remember that there may also be some people who just want to enjoy the food and sit around and mingle.
Go
Put on your team jersey and get ready to have some fun with your friends. Here is an easy checklist to make football celebration goes smoothly.
Tailgate Party Planning Checklist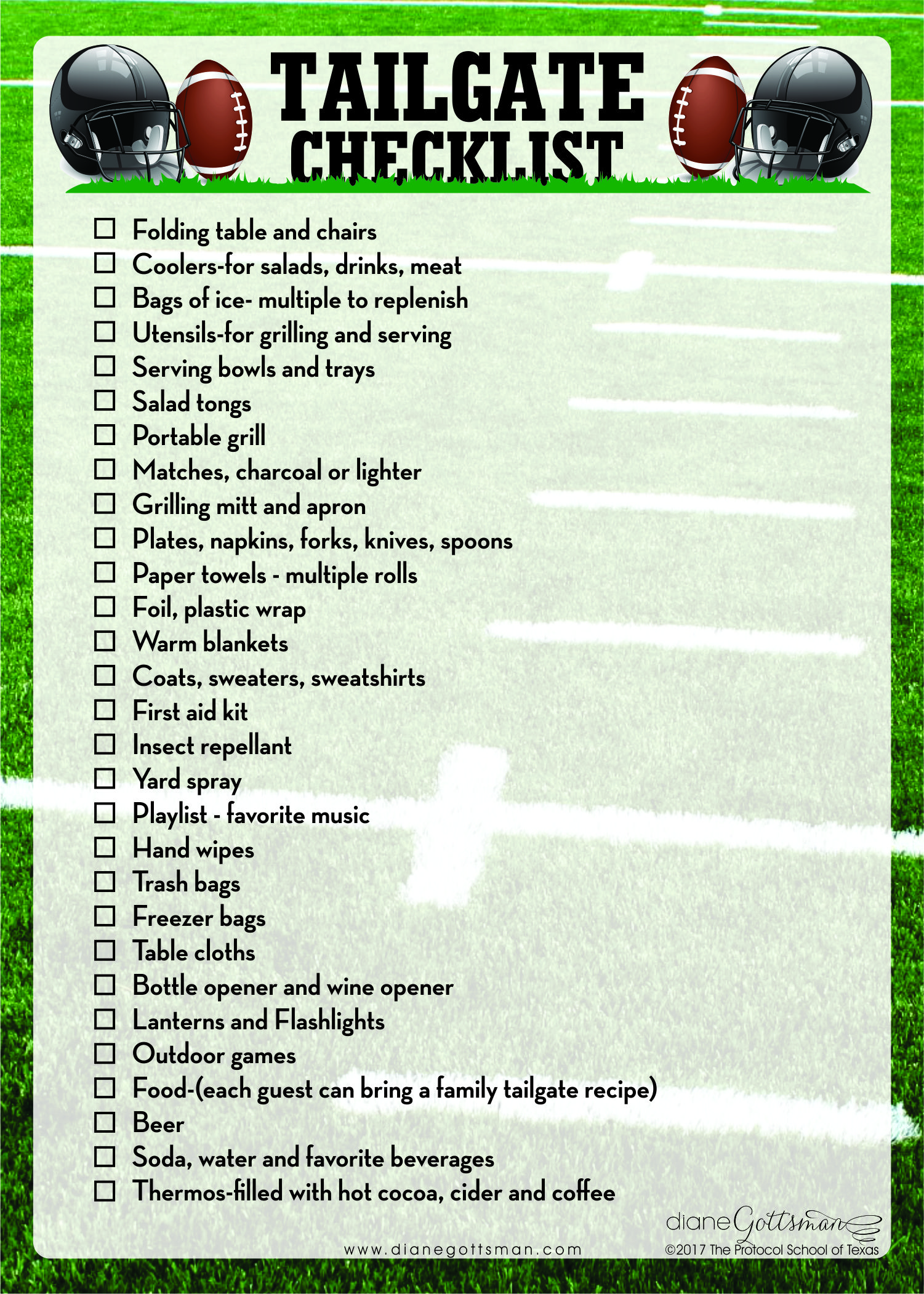 For more of Diane's etiquette tips, you may enjoy Fall Entertaining Bucketlist. Read her posts on Inc., subscribe to her articles on HuffPost, "like" The Protocol School of Texas on Facebook, and follow her on Pinterest, Instagram and Twitter. Buy her new book, Modern Etiquette for a Better Life.