There are some do's and don'ts when it comes to caring for a cast-iron skillet. With proper care, cast iron can last a lifetime and become a family heirloom.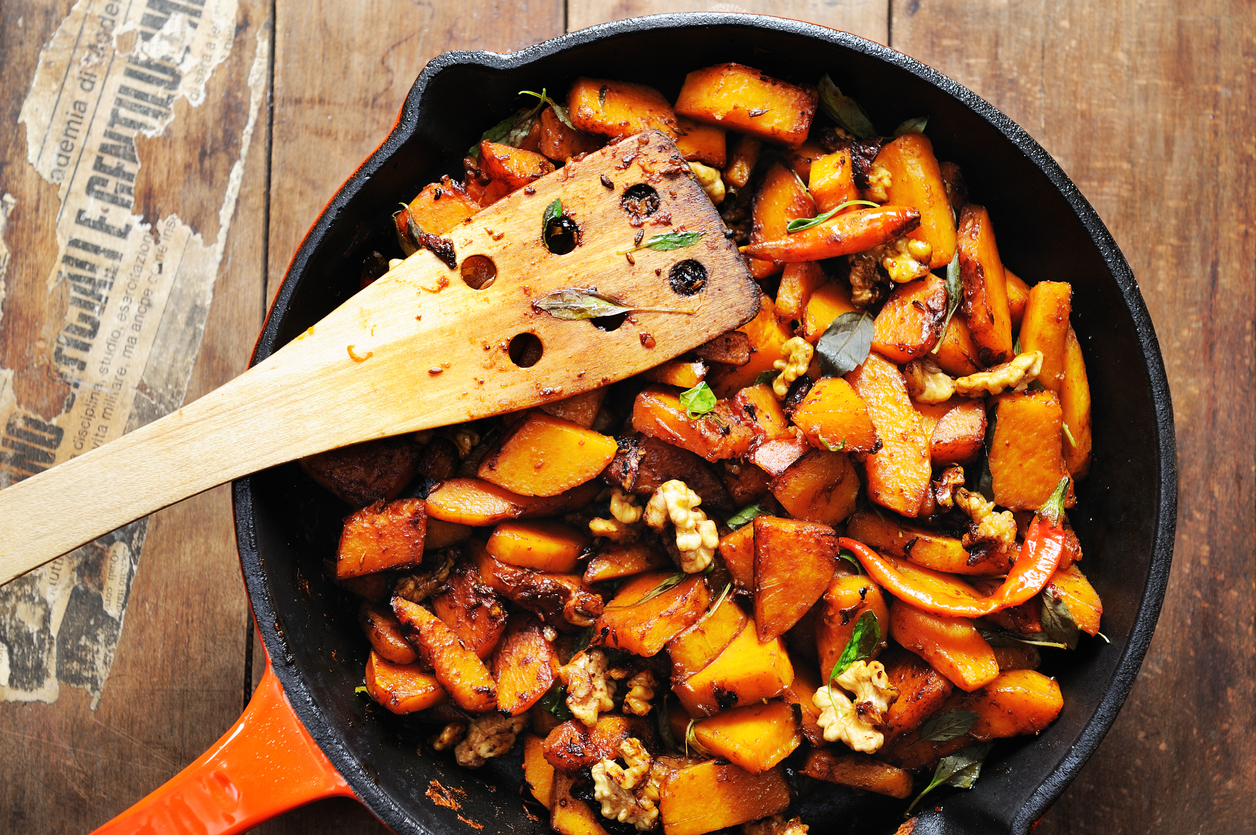 I can't help but think of my grandma and how she would cook cornbread and fried potatoes in her favorite cast iron skillet. When she passed away, I brought the skillet home. I have used it routinely and it has brought me many happy memories, especially during fall and winter. Comfort food is synonymous with cast iron.
Here are a few cast iron tips.
Seasoning Your Skillet
A cast iron skillet must be seasoned. When you purchase a regular piece of cookware, all you have to do is turn on the stove and start cooking. A cast-iron skillet requires a little more preparation. Seasoning your skillet will give it a lustrous black patina typical of cast iron and enhances the non-stick surface.
Wash your new skillet in hot soapy water and dry. Spread a thin layer of shortening or vegetable oil across the inside base of the skillet. Put it in your oven at 375 to 400 degrees and allow to bake for 45 minutes to an hour. Turn off the oven and let the skillet cool.
Daily Cleaning
Wash your skillet with soap and water. Use a scrubber to remove cooked on debris. Do not soak your skillet in water or it will rust. When the pan is clean, rub a small amount of vegetable oil inside the skillet. For extra stuck on food, sprinkle coarse salt into the pan and scrub.
Do Not Over Season Your Skillet
There is truth to the adage, "Too much of a good thing is not good." If you use too much oil to season your skillet, it will develop a sticky film which is difficult to remove. Do not use a spray such as Pam on your skillet. Use a minimal amount of oil to cover the interior. Some people cover the outside of the skillet, as well.
Storage
When not in use, keep your skillet in a drawer or cabinet which does not retain moisture. If you stack your skillets, place a soft sackcloth or paper towel between them. This will prevent scratching.
Use the Right Utensils
You may use metal tongs to turn, spatulas to flip, or metal spoons to stir in your skillet. Unlike professionally coated skillets, you do not have to worry about scratching the interior of a cast iron skillet.
Remove the Rust
If your skillet gets rusty, you can scrub off the rust with a steel wool pad or scrub brush. Make sure to dry it completely and season it again immediately. Your skillet is not ruined if it rusts and you can bring it back to life with a little tender loving care.
Holiday Cornbread Recipe
Courtesy of my girlfriend Gina.
Ingredients:
1 cup cornmeal
1 all-purpose flour
½ cup white sugar
1 tsp. salt
3 ½ tsp. baking powder
1 cup whole milk (I use low fat)
1/3 canola oil
1 egg
Directions:
Preheat oven to 400 degrees. Lightly grease cast iron skillet.
Combine first 5 ingredients in a mixing bowl. Stir in milk, oil and egg to batter.
Transfer to cast iron skillet and bake in oven 25 minute or until cooked through and golden on top.