You read about them in holiday stories,
sing
about them in Christmas carols and serve them on your
dinner
table, but some traditional holiday foods are a bit of a mystery; figgy pudding, anyone?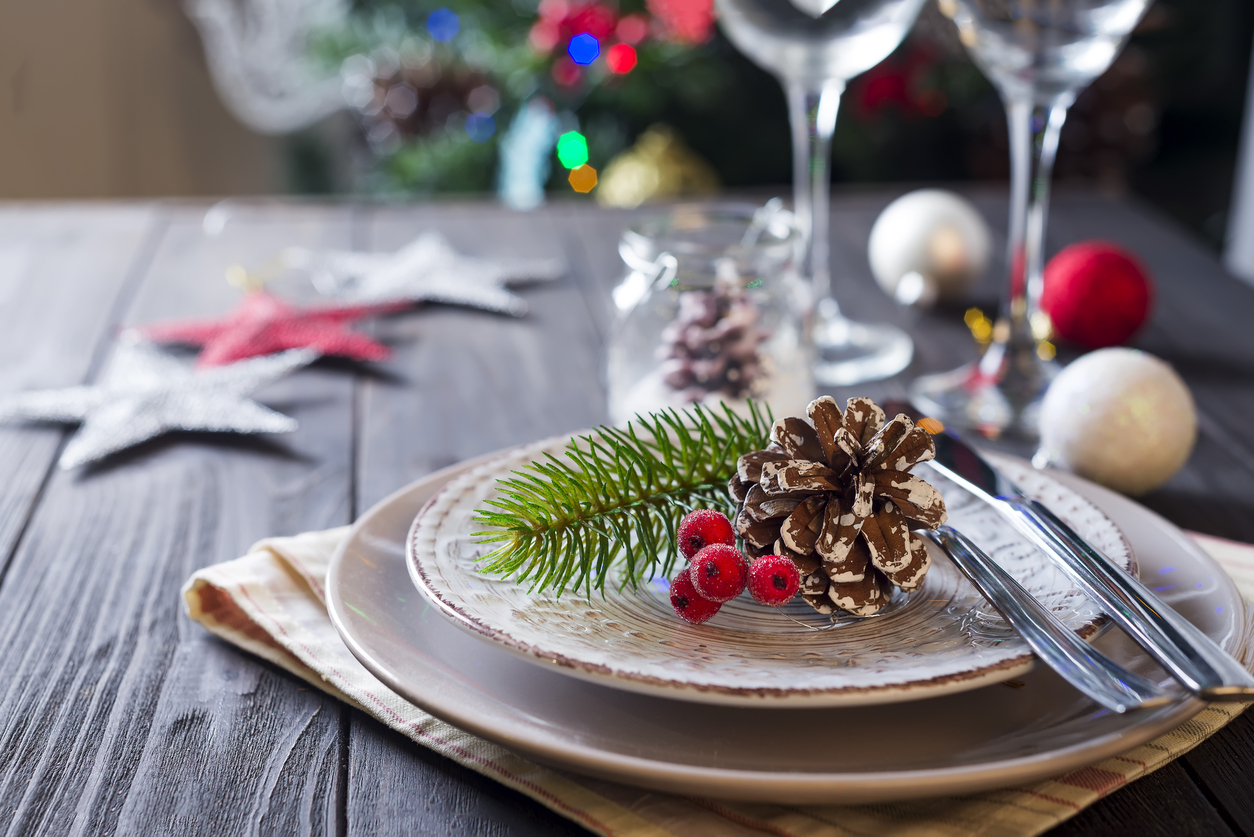 Some traditions are so ingrained in our holiday rituals no one even questions them, but each has an interesting blend of ceremony, indulgence and simple practicality behind it. Here's a lighthearted look at some seasonal favorites and how to serve them on your holiday table.
Chestnuts
We find chestnuts more often in holiday lore than on anyone's table. But stories and songs link chestnuts inextricably to chilly holiday weather. The tradition is still alive in New England and Northern Europe, where vendors roast them on the street in chilly months. Europeans have eaten chestnuts for centuries as an abundant and nutritious staple. They were popular throughout the United States until a disease wiped out chestnut trees in North America in the early 1900s. Fortunately, The American Chestnut Foundation is diligently working to reintroduce the trees back into the forest ecosystems.
Figgy Pudding
Also known as plum pudding, includes dried fruit, nuts, spices, and a good dose of brandy, but interestingly no figs or plums. In Britain, pudding is a dense dish which can be sweet or savory, not similar to the thick, sugary, creamy concoction served on American's table. It dates back centuries to a time when sugar was not widely available and dried fruit was the sweetener of choice out of necessity.
Fruitcake
While many wildly ridicule this dense cake, the holiday treat is another tradition which began when fruit and nuts were prized indulgences. Rooted in ancient Rome, by the 1400s it was a European Christmas tradition. Fruitcake morphed over the years as butter and sugar became more available. The colorful candied fruit dates back centuries when people used hot sugar syrup to preserve pieces of fruit and peels.
Oranges
In a world where you can choose from citrus at any time of the year, oranges hardly seem special. But centuries ago they were a decadent luxury and a prized addition to the Christmas stocking. Today, they are plentiful and enjoyed in slices or simmering in apple juice with a couple of cinnamon sticks and holiday spices to create a warm and aromatic cider.
Gingerbread
German in origin, this term refers to spicy and sweet cookies and cakes. Ginger arrived in Europe from the Middle East approximately a thousand years ago. People valued ginger for its flavor, medicinal value and preservative properties. Gingerbread became an art form in medieval Europe, where bakers fashioned them into elaborate cookies, figures and eventually houses. The tradition migrated to the New World, where remains a beloved holiday tradition. A staple at a Holiday Tea, cookie exchange or when baking with grandma.
Christmas Goose
Charles Dickens wrote about it in his famous book,  "A Christmas Carol." Songs immortalize this age-old centerpiece of the holiday meal: "Christmas is coming, the goose is getting fat." While all but replaced by turkey, beef or ham on the American holiday table, a rich roast goose used to be a holiday delight, thanks to the bird's ubiquity and its rich, fat-laden meat. It fell by the wayside when American settlers discovered that turkeys were more prevalent here. Turkey now frequently graces British Christmas tables, too.
Mincemeat
This tradition is perhaps slipping away like the ghost of Christmas past. It's a mixture of spices and fruit. In its original form, it was a combination of actual meat, transformed by fruits, vinegar or brandy, and spices such as nutmeg, cinnamon and cloves, served as a dessert.
Eggnog
Another tradition with English roots, this holiday beverage symbolizes ingredients which were considered a luxury for many: eggs, milk and spirits such as wine, brandy or sherry. The United States added its own twist by spiking the nog with rum or bourbon, which were more readily available here. Today, it's not a Christmas holiday until cartons of eggnog appear in the local supermarket.
Trifle
A classic English dessert, trifles are a sponge cake with fruit, jelly, custard and cream. They're usually layered in a glass dish, offering an alluring glimpse into the strata. Dating back to the sixteenth century, this dessert probably became associated with Christmas due to its festive look and decadence.
Potato Latkes
Hanukkah commemorates the miracle of one night's worth of oil that burned for eight nights. Therefore, foods fried in oil such as this Hanukkah staple have a special place on the holiday table. Many American Jews originally came from Eastern Europe, where potatoes were an abundant crop in the mid-1800s, leading to this tradition. Before that, latkes often referred to pancakes made with ricotta cheese, a tradition that dates to around 1500 AD.
Candy Canes
According to folklore, they began three hundred years ago as plain white sugar candy sticks. They helped children in church sit quietly throughout Christmas services. The stripes first came into fashion in the early 1800s, followed by peppermint flavor. The red stripes and the J-shape became popular in the early 1900s. The hook shape is said to resemble a shepherd's crook to remind them of the visit to baby Jesus.
Whatever holiday delights you enjoy this season, may you share them with family and friends and in good health. Happy holidays!