When things aren't working as they have in the past, or you find yourself going down a rabbit hole, instead of opening the second bottle of wine, dig deep and reach for the reset button.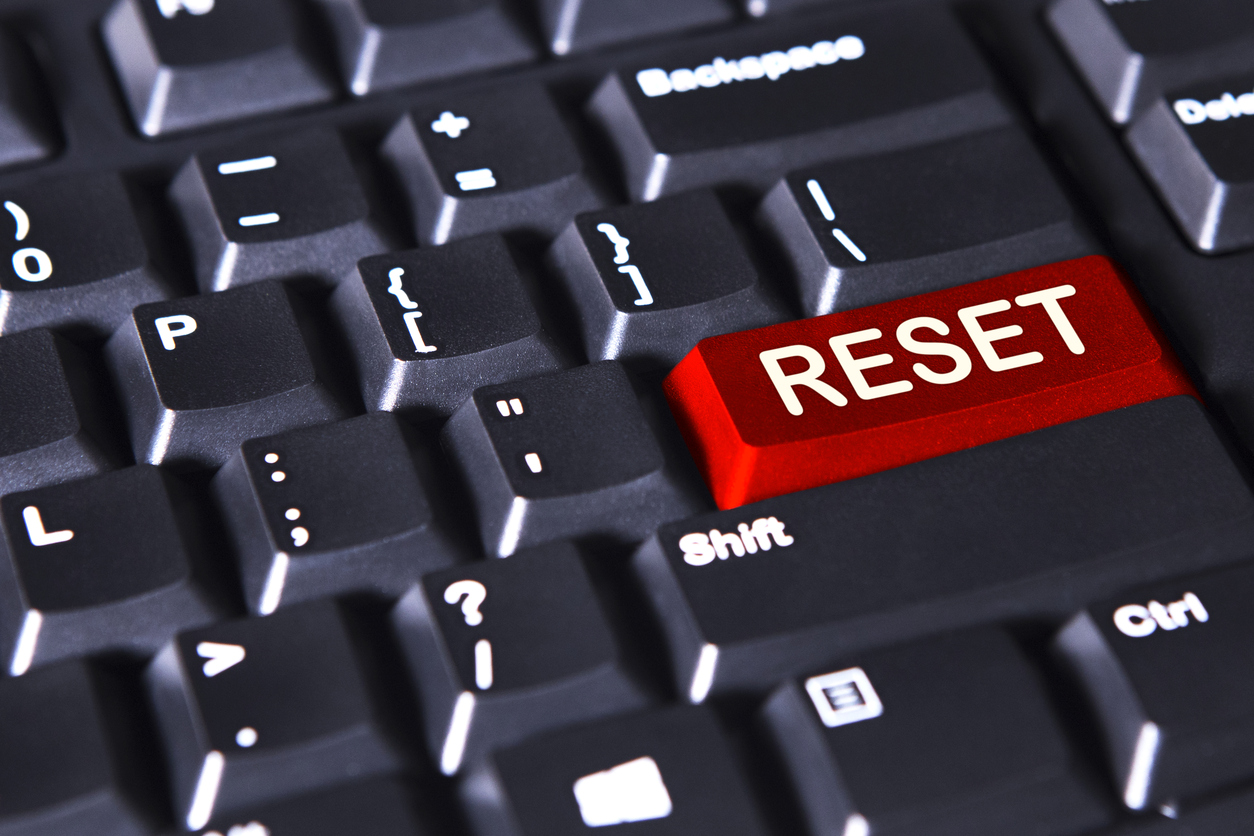 It lives inside of you and is there at any point in your life when you need to take a step back, look at your life and evaluate what needs changing and what you must do next.
A friend and mentor would always recite, "If you always do what you've always done, you'll always get what you've always got." If you live in chaos, you probably have created much of it yourself. If you live in angst, ditto. If you are unhappy with a relationship, what are you doing to fix or change it? What will it take to set you free? 
If you want to make a change: stop smoking, save money, find a healthy relationship, think like a leader or find a new job – hit the reset button. Chances are you have fallen into a pattern which may have served you at one point, or never served your highest good at all. But out of fear or habit, you go back and repeatedly do the same things, making choices which create the same life as before.
What simple things can you do differently this time?
Identify What You Want
You can't move forward without knowing where you want to go.
Find People Who Can Help You
Support groups, friends, mentors and strangers can be an incredible source of strength if they are the right people. Aligning yourself with naysayers or toxic personalities is counterproductive. You may want to ask yourself if those you serve also serve you. Do you have anyone to count on in a time of need? If the answer is no, find one or two people who you can trust to have your back. At any age or point of in life, it's worth developing relationships which will be a source of comfort when you need a shoulder to lean on or a hand to high five.
Learn Something New
When was the last time you stepped outside your comfort zone?  If the only thing you can talk about is your kids, your job or your latest retail purchase, you are limiting yourself to a small, safe world. Dare to be great at something you had no idea you ever wanted to learn. Try new things and eliminate what does not work in the quest to find a passion. If you are lucky, in the process you will find several new things to talk about.
Get Rid of the Toxins
I know I say this often, but it is important and worth repeating. When you let things, situations and people slide into your life because it's easy or fun, but not aligned with your highest good or values, you seldom raise them up to your level. Instead, you end up hurt, diminished and disappointed. Heed your gut instinct – always.
Read, Learn
and
 Listen
There is knowledge all around you. Listen to podcasts, pull out your favorite old poems and books, watch Ted Talks, read wise souls and great legends to hear and learn from the best. These authors and speakers will also offer many of their mistakes and how they conquered the odds. Change takes work, it's not a passive activity.
Hit the Reset Button
It's time for a transformation because a life that stands still is not moving forward. Find your calling, your passion, your new best friend, the love of your life, the job of your dreams or your quiet peace in an often loud and crazy world. Whatever it takes to make your heart sing is what I suggest you work on this year. And most of the time, it's as simple as the next right step. Hit the reset button and get moving.
For more of Diane's etiquette tips, you may enjoy A Productive Morning Starts the Night Before. Read her posts on Inc., subscribe to her articles on HuffPost, "like" The Protocol School of Texas on Facebook, and follow her on Pinterest, Instagram and Twitter. Buy her new book, Modern Etiquette for a Better Life.